What a fantastic read to finish the month with! I've been looking forward to this, particularly as it's the final book in the duology. It feels good to get through a series!
SOURCE: Gift
TYPE: Paperback
TITLE: Crooked Kingdom
AUTHOR: Leigh Bardugo
SERIES: Six Of Crows (#2)
PUBLISHER: Vintage Digital
PAGES: 536
GENRE: Young Adult, Fantasy, Adventure
RATING: 5/5 Stars
Blurb: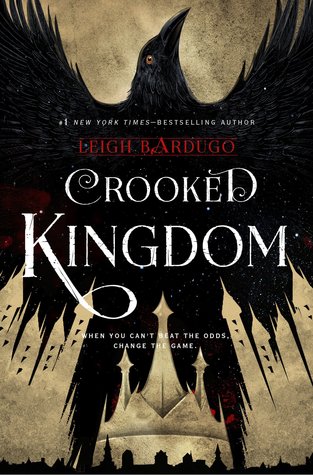 Kaz Brekker and his crew of deadly outcasts have just pulled off a heist so daring even they didn't think they'd survive. But instead of divvying up a fat reward, they're right back to fighting for their lives.
Double-crossed and badly weakened, the crew is low on resources, allies, and hope. As powerful forces from around the world descend on Ketterdam to root out the secrets of the dangerous drug known as jurda parem, old rivals and new enemies emerge to challenge Kaz's cunning and test the team's fragile loyalties.
A war will be waged on the city's dark and twisting streets - a battle for revenge and redemption that will decide the fate of the Grisha world.
What I Liked:
I had missed these characters so much, especially Kaz and Inej! It was so good to read them again, and I really felt that Bardugo put a lot of work into making them the gang that we know and love while finding new facets to their personalities and uncovering more backstory for each! She certainly gave Jesper and Wylan a little more attention, which was nice to read.

The OTPs in this book are my absolute favourite and I had mostly been looking forward to seeing more of Kaz and Inej (and they did have some super great moments). But I was pleasantly surprised by how much more I fell for Wylan and Jesper!

I also found a whole new appreciation for the world-building in this series. 'The Grisha Trilogy' was very much focused on Ravka, while this book was based entirely in Ketterdam but revealed so much more about the rest of the countries and the politics between them.
What I Disliked:
I only felt disappointed in one thing within this book, and that was how little we got to see of Dunyasha! She was so spectacular, and no sooner had she been introduced, then she was gone again! I'd have really liked to see more of her.
Overall Conclusion:
I loved the finale to this little series, much more so than 'The Grisha Trilogy'. I think this was mainly because the characters are so spot on here! Thank you Bardugo for including so much representation in this book too - PoC characters, LGBTQ+ rep, educationally and physically disabled MCs, I loved them all! Every character was SO loveable and had flaws too and that made them complex and wonderful to read. Also, Kaz scheming is my FAVOURITE thing.