I've been wanting to read this book for a while, and I'm so glad that it lived up to it's reputation of being so beautifully written! Mostly, I read it for the opportunity to explore another culture and I definitely got to do that!
SOURCE: NetGalley
TYPE: E-Books
TITLE: The Astonishing Colour Of After
AUTHOR: Emily X.R. Pan
SERIES: --
PUBLISHER: Orion Children's Books
PAGES: 480
GENRE: Young Adult, Magical Realism, Contemporary, Fantasy
RATING: 4/5 Stars
Blurb: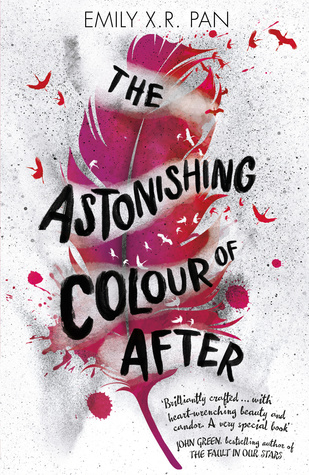 When Leigh's mother dies by suicide she leaves only a scribbled note - I want you to remember.
Leigh doesn't understand its meaning and wishes she could turn to her best friend, Axel - if only she hadn't kissed him and changed everything between them.
Guided by a mysterious red bird, Leigh travels to Taiwan to meet her grandparents for the first time. There, Leigh retreats into art and memories, where colours collide, the rules of reality are broken and the ghosts of the past refuse to rest…
But Leigh is determined to unlock her family's secrets.
To remember.
What I Liked:
The writing was stunning. It was lyrical and consistently so, and Pan is clearly a natural when it comes to writing beautiful stories. I never once found it too 'frilly'.

I also really liked the detailed insight into the culture of Taiwan! Pan touched on a lot - myths, folklore, traditions, food, nature, etc. And she wasn't afraid to showcase these amazing and beautiful things alongside some of the not-so-good - racism, attitudes toward marriage, treatment of mental health. I think it's important when writing about any culture to give a detailed insight like this.
What I Disliked:
I think that the character development felt a little lacklustre. It wasn't bad but I really didn't feel like there was much time to get to know the MC Leigh beyond her art, her feelings for her best friend, and her desperate search for her mother's ghost. In fact, I think I felt this way about all of the characters. They weren't lacking dimension but there definitely could have been more.
Overall Conclusion:
This novel really impressed me, especially considering that it is a debut, and I am pleased that I finally got round to reading it. I'm happy to have learnt so much about another culture in a gorgeously written style, I liked the elements of magical realism (which is huge because I have mixed feelings about that genre) and I'd love to read more from Pan in the future!