I am inclined to put a little bit less pressure on myself for the next couple of months reading-wise, as the wedding is coming up fast and I hate feeling as if I'm constantly playing catch-up. I'm setting myself a target of six reads this month, though I doubt I'll even do that!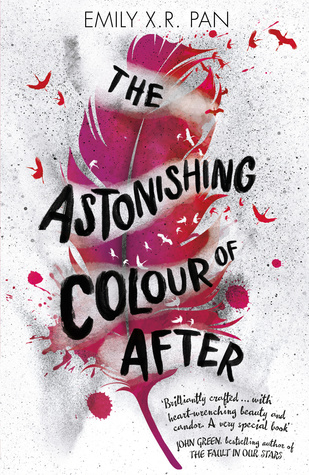 'Enchantée'
by Gita Trelease is probably one of my most anticipated 2019 releases! It's a bit disappointing that I haven't finished yet but I have high hopes for doing so in the next couple of months, as I have actually started it now! I'm liking what I've read so far, though the size of the book is a little intimidating!
I've been eyeing up 'The Astonishing Colour Of After' by Emily X.R. Pan for a while, as the premise and the cover are absolutely stunning! It not only deals with a lot of themes, it's apparently a contemporary with a little bit of magical realism/fantasy thrown in for good measure and is set in Taiwan!
Speaking of books set in a totally different culture, I love the idea of Julie Kagawa's 'Shadow Of The Fox' Japanese-inspired fantasy! It's had kind of mixed reviews but the cover is stunning and I really want to read something by this author.
I really fancy reading some shorter stories, and this 'Little Black Classics' collection dubbed as feminist stories has really peaked my interest. 'The Yellow-Wallpaper' by Charlotte Perkins Gilman contains three short stories which I'm excited to read!
There's not much to say about 'Reign Of The Fallen' by Sarah Glenn Marsh than I've said in past Planned Reads posts. I want to read it so badly and I hope that I can get to it soon!
It has been a while since I've read any of Sir Arthur Conan Doyle's 'Sherlock Holmes' stories, and 'The Valley Of Fear' is up next! I hope it's as good as 'The Hound Of The Baskervilles, which I enjoyed immensely!