I have finally got round to reviewing this book! I actually have an excuse as to why it's taking me so long to get posts up and why I'm not being as attentive to this blog. I have not had Wifi until yesterday. We have had all manner of problems trying to get it set up but I won't rant too much, as much as I want to. I'll just rejoice that I have it now and get back to actually posting on this blog. This book absolutely blew me away and I can't wait to get into this review! I'm entering this into the Jumble Your Genres challenge this month too.
SOURCE: Bought
TYPE: E-Read
TITLE: Aristotle & Dante Discover The Secrets Of The Universe.
AUTHOR: Benjamin Alire Sáenz
SERIES: --
PUBLISHER: Simon & Schuster
PAGES: 359
GENRE: Young Adult, Contemporary, Romance, LGBT
RATING: 5/5 Stars
Blurb: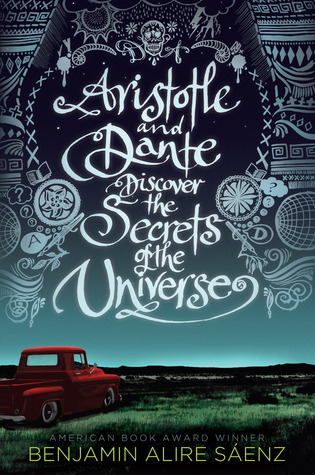 Aristotle is an angry teen with a brother in prison. Dante is a know-it-all who has an unusual way of looking at the world. When the two meet at the swimming pool, they seem to have nothing in common. But as the loners start spending time together, they discover that they share a special friendship—the kind that changes lives and lasts a lifetime. And it is through this friendship that Ari and Dante will learn the most important truths about themselves and the kind of people they want to be.
What I Liked:
Firstly, this book is written beautifully. Rarely have I picked up a book and been so taken with every word on the page in front of me. I was hooked from start to finish, and when I wasn't reading it, I was looking forward to the next moment that I would so that I could immerse myself in Sáenz's writing again!

Dante and Ari were fantastic characters to get behind them. I loved them both immediately and it was such a great joy to read their friendship as it developed! his book is a wonderful coming-of-age tale and Ari was a great narrator to see the story from. The side characters were great too, especially the Parents on both sides.
What I Disliked:
Wait, do I have to write something here? I didn't have any disliked about this book, other than the fact it ended. I suppose I did find the ending to be a little bit abrupt actually, I wish there had been a little bit more to it.
Overall Conclusion:
This book was just beautiful. While reading it, I spent the whole time smiling, but finding myself wanting to cry at the same time. To anyone who is on the fence, I would definitely say that you are missing out and need to read this book, it is cleverly written, witty, and beautiful to read. It will certainly touch your heart and I myself want to read more of this man's work.