This might actually be a fairly hard topic because thanks to Memes like Top Ten Tuesday, I actually end up pushing books that I love a lot, even stories that I read ages ago. I do have a few ideas though, and I can't wait to revisit some of my older favourites. Anything that I've read in 2016 will not be appearing on this list and I probably won't include too many books that already receive huge amounts of hype
!
1) 'The Tale Of Raw Head & Bloody Bones' by Jack Wolf.
This is the first book I read for this blog, and so holds a very special place in my heart. Not only that, but it made five stars because I just found everything about it so captivating. It is a Historical Fiction written in the style of some of my favourite Gothic Horrors and mixed with just a dash of Fantasy to make it unique. The plot that Wolf has chosen is one-of-a-kind, written from the perspective of an 18th Century Doctor suffering from a severe Mental Illness that fills his head with delusions and a sick desire to kill, hurt and maim. Sorting through what is real and what is in Tristan's head is just part of the fun and while some of the content may be a little disturbing (as well as the horrendous number of capital letters in this book) I totally recommend it's madness to those wanting to read something different.
2) 'Pure' by Andrew Miller.
Another of my early reads and also set in a distant time period, this is another book that gripped me from start to finish and I know I have not praised enough since having read it. The cover is gorgeous and while the synopsis may not sound spellbinding I implore that lovers of Historical Fiction give this one a go. Set in the late 1700s, it focuses on a young Engineer's task to dismantle and disturb a local Graveyard which happens to be the centre of local superstition and causes him many problems. A lot happens in a book that is very vague in it's blurb and while it ends pretty abruptly, it's gorgeous imagery and flawless world-building sold it to me as a deserving winner for the Costa Book Award (2011).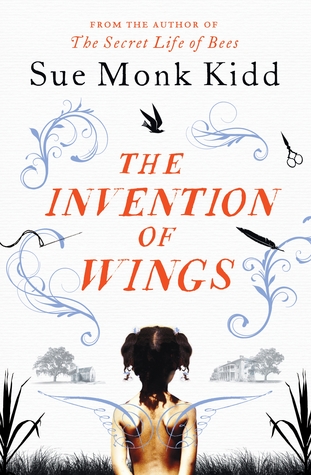 3) 'The Invention Of Wings' by Sue Monk Kidd.
Fans of 'Twelve Years A Slave', 'To Kill A Mockingbird' or 'The Help' need to read this book. In my opinion, the history of POC rights is seldom talked about and should be a vital part in any school's curriculum. Books like this should be on the reading list. It tells the true story of Sarah and Angelina Grimke, activists for women's rights and the opposition of slavery, as well as speaking from the viewpoint of Hetty (or 'Handful' as she's affectionately nicknamed) one of their family's slaves. I had never heard of any of these women, all of whom existed at the turn of the Century (18th into 19th) but I fell in love with their spirit and courage. It's message is poignant and it's plot heartbreaking and I just adore everything it stands for.
4) 'Aristotle & Dante Discover The Secrets Of The Universe' by Benjamin Alire Sáenz.
I remember reading a few great reviews for this book just before I read it, but honestly I don't think it actually quite got the love that it deserved which is why I'm sticking it on this list. As far as YA LGBT fiction goes, this is one of the best in my opinion. It focuses on the friendship of two young teenage boys, and their developing feelings for each other as they grow older as well as the difficulties they face within their own communities. I loved the diverse characters found within the story, the way that
Sáenz chose to lay it out from Ari's point of view and they are definitely one of my favourite OTPs of all time!
5) 'The Miniaturist' by Jessie Burton.
Yet more Historical Fiction I know, but this was a find from Waterstones that really caught my eye. It was signed so I snapped it up quickly and read it shortly after. Burton's writing quickly captured both my attention and my imagination and I really liked the mystery surrounding the whole plot. Set in the late 17th century, Nella Oortman enters into a marriage of convenience in order to escape the confines of family life and looks forward to the prospect of running her own household. What she finds instead is a house of secrets, the feeling of isolation and not-belonging and what's more, a mysterious doll-house that is identical to and reflective of her new residence in an almost supernatural way. This is a story with many twists and turns and I can't recommend it enough for those that love good research and an intriguing story.
6) 'The Bees' by Laline Paull.
This book, though a little bizarre to read at times, ended up being a firm favourite of mine that I feel I ought to give more attention. How on Earth did Paull manage to write a book from the perspective of bees and get it so right? I don't pretend to be an expert on this particular insect, but my limited knowledge of them makes me think that Paull must have been studying bees for a long time and in a way it read much like a classic Dystopian such as 'The Handmaid's Tale'. Anthropomorphic stories such as this should be written more often, and not just in children's stories.
7) 'No Lasting Burial'; Stant Litore.
I read this book such a long time ago but I can't believe how little I've actually talked about it. It's a pretty interesting concept actually, taking stories from the Bible and, in essence, adding the undead. While the concept of a Zombie attack in AD 60 Jerusalem sounds like a laughable, ridiculous one, I was impressed by the interpretation of the Gospel Of Luke. It's not just a Zombie-insertion fiction. It's a story about suffering, desperation, hope and forgiveness. It carries a message without preaching. And there is certainly no disrespect towards Christianity in any way, shape or form. This is actually Book 4 of the series so I would recommend maybe starting with the first and going from there though in my experience they can be read as stand-alones.
8) 'If You Find Me' by Emily Murdoch.
Emily Murdoch wrote a book on a topic that at that point, I had only read in Jacqueline Wilson's books (and even those don't cover it in the same way): parental neglect. Some of the things that happen to the two girls in this book are unthinkable. It is hard to believe that any parent could do this but it was the complexity of emotions and situations found within these pages that I loved. Most of all, reading the healing process for each character, as well as the bonds they form was a joy and I would love to read more books like this.
9) 'Thereafter' by Terri Bruce.
This is actually the second book in a series that I think I don't give enough credit. I mention this book in particular because while the first book didn't grab me in the way that I wanted too, the second made Bruce's aim much clearer and reeled me in. Though it's a series with flaws, it's one I keep researching to find out when the third book is coming because I really am enjoying it in a way that I didn't expect to. It has some really interesting ideas about the afterlife too so if you like to read about those kind of theories, then grab 'Hereafter', the first book in the series, and jump in!
10) 'Skin' by Ilka Tampke.
This book popped into my life when I was invited to an event by Hodder & Stoughton. I read it and adored it. I love YA Historical Fiction, but I've seldom read anything set so long ago and certainly never in Celtic Britain. AD 43, on the cusp of war with Rome, is where we find the main heroine of this book and it was filled to the brim with tribes, totems, magic and the supernatural as well as a well-researched historical basis. I loved the vibes that this book gave me and I'm eager for the next one in the series to be released though I'm not sure when that will be.