In a bid to read all of the Sherlock Holmes stories that I feel I've been missing out on, I've managed to get round to the second novella that Doyle wrote: 'The Sign Of The Four'. I'm so proud of myself! I enjoyed this one even more than the first which is surprising because I've never heard of this title outside of the books.
SOURCE: Borrowed
TYPE: Hardcover
TITLE: The Complete Sherlock Holmes (The Sign Of The Four)
AUTHOR: Arthur Conan Doyle
SERIES: Sherlock Holmes (#2)
PUBLISHER: Barnes & Noble Classics
PAGES: 70
GENRE: Mystery, Classics, Historical Fiction
RATING: 4.5/5 Stars
Blurb: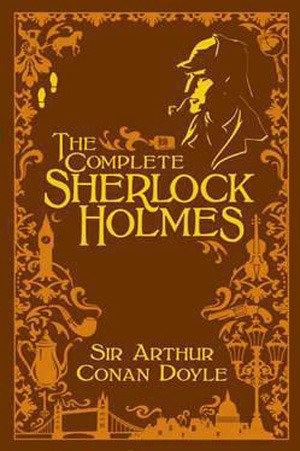 As a dense yellow fog swirls through the streets of London, a deep melancholy has descended on Sherlock Holmes, who sits in a cocaine-induced haze at 221B Baker Street. His mood is only lifted by a visit from a beautiful but distressed young woman - Mary Morstan, whose father vanished ten years before. Four years later she began to receive an exquisite gift every year: a large, lustrous pearl. Now she has had an intriguing invitation to meet her unknown benefactor and urges Holmes and Watson to accompany her. And in the ensuing investigation - which involves a wronged woman, a stolen hoard of Indian treasure, a wooden-legged ruffian, a helpful dog and a love affair - even the jaded Holmes is moved to exclaim, 'Isn't it gorgeous!'
What I Liked:
I felt that the plot in this one flowed a lot better. In 'A Study In Scarlet' it jumped from moment to moment in a very bumpy way. 'The Sign Of The Four' was a lot smoother, and more enjoyable as a result. The twists and turns made more sense, as well as being more prominent. As a result, I found myself more invested in the ongoing development of the story, as well as the characters I've come to know.

It's very quickly becoming clear to me that Doyle has a great grasp on humour and silliness in his stories. The mysteries are a bit of fun of course, but what makes these novels special are the characters. Holmes is an arrogant, eccentric, intelligent man who has often already solved the mystery when his poor companion John Watson can barely remember the basics. Watson's exasperation is guaranteed to bring a smile to anyone's face, as are the boisterous detectives who think they know better and yet try too hard to impress Holmes. Let the hilarity ensue!
What I Disliked:
A few minor quibbles came with this story. As it was so short the instantaneous love that sprung between John Watson and Mary Morstan in this book was both adorable and slightly nauseating. I don't personally feel that I got to know Miss Morstan well enough in this book, though I've seen plenty of her in various media adaptations that I have enjoyed immensely so I know that there is so much more to her than I've read. I'm hoping she develops and evolves in the subsequent stories that Doyle writes. One final thing that bothered me were the racist remarks: a product of the time of course, but troubling and cringe-worthy nonetheless. I hope this isn't commonly found!
Overall Conclusion:
This series is only on it's second Novella and yet I can already see why it has become so iconic. The characters are probably it's best element, because they are just so quirky and memorable! They are designed to be funny which they achieve very well, and yet I also feel a certain sense of awe regarding Holmes in particular, and his remarkable skills of deduction. I would love to read these books retold at some point in the near future but for now I am certainly content to make my way through the originals that started it all.