Since reading 'Sunbolt' all that time ago, and recently pre-ordering the next book in the series, I have been craving an Intisar Khanani read. I've also been wanting to read another Fairy Tale retelling, seeing as it has been so long since the last one I read. 'Thorn' was the perfect choice and I'm so excited for you all to hear my thoughts. It's also a 'Key Word' Challenge read!
SOURCE: Bought
TYPE: E-Read

TITLE: Thorn
AUTHOR: Intisar Khanani
SERIES: --
PUBLISHER: Intisar Khanani
PAGES: 246
GENRE: Retelling, Fantasy, Young Adult

RATING: 5/5 Stars
Blurb: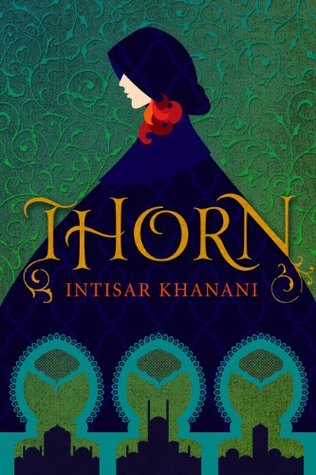 Princess Alyrra has never enjoyed the security or power of her rank. Between her family's cruelty and the court's contempt, she has spent her life in the shadows. Forced to marry a powerful foreign prince, Alyrra embarks on a journey to meet her betrothed with little hope for a better future.
But powerful men have powerful enemies--and now, so does Alyrra. Betrayed during a magical attack, her identity is switched with another woman's, giving Alyrra the first choice she's ever had: to start a new life for herself or fight for a prince she's never met. But Alyrra soon finds that Prince Kestrin is not at all what she expected. While walking away will cost Kestrin his life, returning to the court may cost Alyrra her own. As Alyrra is coming to realize, sometime the hardest choice means learning to trust herself.
What I Liked:
Intisar Khanani's writing is a great love of mine and she didn't disappoint me here. The style had changed a little, in that the way that she wrote made me reminisce on Fairy Tales of old, and how they used to be written. A little bit like E.K. Johnston's 'A Thousand Nights' did. The story was short and yet once again, it didn't feel like it (a pattern is definitely emerging with Khanani on this matter). In fact it actually felt very long and detailed! The book was really quotable too, in an almost philosophical way.

The character development in this story is spot on! Alyrra, the heroine, is very likeable: both kind and clever. She's not 'badass' in the sense that she runs around swinging her sword, nor does she have a special 'magical' ability. In fact, all she really has to rely on is her wit, which made a very refreshing change. Kestrin, a Prince and her intended is also a great character: clever, serious and protective, yet mysterious too. I liked that the book focused more on Alyrra's growth rather than their relationship because it gave the tale a different spin.
What I Disliked:
There were a couple of plot-points that I felt weren't tied up at the end. Firstly, I wanted to learn more about Falada and the Horses which were casually referred to but never really expanded upon fully. The big one had to be the Snatchers though. Everything about the disappearances, the 'curse' and the 'blessing' sounded fishy and begged to be a sub-plot but it didn't happen. I can only assume that Khanani has plans for this in a sequel, or a companion series of some kind and I'm excited if that's the case. I want to read more about Menaiya!
Overall Conclusion:
Once again, Khanani has blown me away. She is quickly going to become an author that I sing from the rooftops about because she deserves more recognition as she's just so talented! I love her writing, her character development is spot on and her world-building is always intriguing and imaginative. I aim to read her short story 'The Bone Knife' soon, and I've pre-ordered 'Memories Of Ash', the next book in the Sunbolt Chronicles series. Everyone go and read this lady's work! Now!