Hooray, a new year means a new set of books to read! I'm excited about this month's reads too, because there's a few 2017 releases as well as some books I had meant to read in 2016 that I'd been really looking forward to!
'The Bear & The Nightingale' by Katherine Arden. I've already started a little of this one and I'm loving it already! It's based around Russian folklore which is something I don't delve into often, and has some gorgeous imagery, intriguing characters and the promise of a magical story. I can't wait to read it all and see what it holds!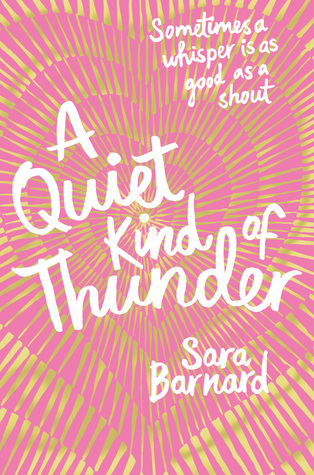 'A Quiet Kind Of Thunder' by Sara Barnard. I had really hoped to read this book in December, but during the month it's due to be released is also fine! I loved 'Beautiful Broken Things' at the start of 2016, so I'm sure this will be an equally gorgeous read that focuses on mental and physical handicaps, friendship (my favourite thing to read about) and teenage issues.
'Rebel Of The Sands' by Alwyn Hamilton. Finally I get to read this book! I'm not going to pass up the opportunity again, as I kept missing it last year despite it being my most anticipated read. 'Traitor To The Thorne', it's sequel, is out soon so I desperately need to catch up and I'm looking forward to a gun toting heroine racing across the hot desert sands!
'The Loneliness Of Distant Beings' by Kate Ling. I had been hoping to read a science fiction book this month and was originally going to reach for 'Illuminae' when I remembered about this little read that has been sitting on my Netgalley shelf for quite some time and I've never got round to. Such a shame because it looks like a lovely read and I think it might be a nice stand-alone to get into.
'Saint Death' by Marcus Sedgwick. I have never read anything by this guy, despite the fact that I own a copy of two of his books! Seeing as I'm making a concerted effort to be more diverse in my reading, this Mexican set YA contemporary looks like a good read and I'm looking forward to learning about some of the social issues surrounding a culture I actually know very little about.
'The Bone Sparrow' by Zana Fraillon. A book about refugees is bound to highlight some very important issues that our world is currently facing, and I think that this will be a sweet, heart-warming read. The fact that it is a Middle Grade book aimed at a younger audience is even better because I feel that education on these matters from an early age is important.
'Under Rose Tainted Skies' by Louise Gornall. This was another December read that I didn't quite get round to, but that's okay. I am looking forward to this one because it covers a topic fairly close to my heart, anxiety. In fact it focuses specifically on Agoraphobia, which I don't actually suffer from but enjoyed reading about in Michael Christie's 'If I Fall, If I Die' so I'm hoping that this read will be a little more serious about the matter and a great story all in one.