This book really intrigued me for a number of reasons, but mostly because there were so many pages of various members of the Penguin publishing team raving about how great it is. On the one hand, I usually skip the quotes of praise (I like to make my own mind up) and there was way too much of it here! On the other hand, the whole publishing team is clearly very passionate about the book which was nice to see.
SOURCE: Netgalley
TYPE: E-Read
TITLE: The One Memory Of Flora Banks
AUTHOR: Emily Barr
SERIES: --
PUBLISHER: Penguin
PAGES: 311
GENRE: Contemporary, Young Adult, Adventure, Mystery
RATING: 3/5 Stars
Blurb: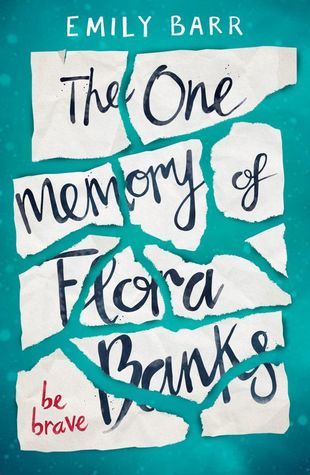 Seventeen-year-old Flora Banks has no short-term memory. Her mind resets itself several times a day, and has since the age of ten, when the tumour that was removed from Flora's brain took with it her ability to make new memories. That is, until she kisses Drake, her best friend's boyfriend, the night before he leaves town. Miraculously, this one memory breaks through Flora's fractured mind, and sticks. Flora is convinced that Drake is responsible for restoring her memory and making her whole again. So when an encouraging email from Drake suggests she meet him on the other side of the world, Flora knows with certainty that this is the first step toward reclaiming her life.
With little more than the words "be brave" inked into her skin, and written reminders of who she is and why her memory is so limited, Flora sets off on an impossible journey to Svalbard, Norway, the land of the midnight sun, determined to find Drake. But from the moment she arrives in the arctic, nothing is quite as it seems, and Flora must "be brave" if she is ever to learn the truth about herself, and to make it safely home.
What I Liked:
As far as plot ideas go, this one was great! I've certainly never seen a book about Anterograde Amnesia before, and it made for an interesting and original storyline that's for sure! Barr does write really well, and it was to her credit that this defining like really kept me wanting to read more despite some problems I had with the book (more on that later).

The character's were great too, well-written and very multi-dimensional. My favourites were Paige and Agi because they had both clearly been worked on a lot and they were the kind of friendships that I'd love to see more of in real life. This was a book about self discovery and Flora was clearly a great canvas to work with. Barr got the balance between her present, adult self and the memories of immaturity and being ten perfectly right.
What I Disliked:
So the idea was cool, yes. Was it well executed? This was less easy to determine. If an MC has problems making new memories this is going to lead to a lot of repetition and this was to the book's detriment. The constant forgetting and relearning got so old and I felt like I probably missed things in order to skim over them and advance Flora's journey more quickly.

Again, while Barr got the balance between learning to be an adult and still having the mid of a child spot on, it made for uncomfortable reading. Especially regarding Drake. The constant references to their imagined sex life, what he would like to do to her (sexting basically), 'I love Drake. He kissed me on a beach.' every few paragraphs and the idea that someone could take advantage of Flora like that really made me cringe. A lot. People might be triggered by this, because it really got to me and content like this wouldn't have normally.

I really wanted a good ending and I simply didn't get it. In fact, the ending I got bordered on ridiculous. It turned from a powerful if unrefined story about a girl learning to adapt to a world not built for her into a huge, psychotic break-down that was not only child abuse but also really out there and the weird feeling of characters 'banding together' in an unrealistic way.
Overall Conclusion:
What a strange book. While it's good to see a publishing company so on board with something, I can't help but feel it needed more editing. There was a lot of repetition when it needed only a little to put it's point across, the characters were well built but made me feel fairly uncomfortable at times (as did the weird situations that Flora found herself in) and I couldn't help but feel disappointed at the farfetched ending. I loved the descriptions of Svalbard and it's inhabitants (it's kind of on the bucket list now) and that segment of the book was great. I just was hoping for more of a kick out of this one.