Is it really November already? 2017 is almost over? Yikes! Still, another month means new reads for me to delve into and I have some really fun ones planned for this month! In the months leading up to Christmas I like my reads to be more wintery, longer, a little magical or sci-fi and literary. Colder months just give off those vibes for me.
My current read, 'The Goblins Of Bellwater' by Molly Ringle is leftover from last month but still fits early November perfectly. I've read a little of it and it's definitely magical, mysterious and contains a lot of mischief that is reminiscent of some of my favourite childhood movies. Yet, it's mature too and I look forward to seeing where the plot will take me! Inspired by Christina Rossetti's poem 'Goblin Market' it's a great tribute so far!
I really loved the first book in this series, 'The Bear & The Nightingale, so I have no doubt that Katherine Arden's 'The Girl In The Tower' will be just as magical and exciting. Based on Slavic fairy tales and folklore, it's the perfect time of the year for a book set in the winters of Russia.
Maybe a book set in the hot desert doesn't seem like an obvious wintery book read, but I like to throw in a curve ball every now and again, and this book certainly contains all the magic. I love reading YA based on folklore from cultures that are not European, and 'The Wrath & The Dawn' by Renée Ahdieh is just that. I feel like fairytales and fantasy are going to be a recurring theme this month.
Why not read a YA contemporary too? The truth is, this book still has a touch of magic in it but a real world setting which I like. Wendy Brant's 'Zenn Diagram' is about a young girl, obsessed with maths, who has powers that allow her to know things about people when she touches objects that they frequently come into contact with them. It's an interesting concept. I hope it translates well to paper!
This book has been on my TBR for too long, and finally I'm going to read it. 'The Novice' by Taran Matharu has a gorgeous cover, and reminds me a little of Philip Pullman's 'His Dark Materials' series with demon companions and a University to study at. I do so love magical schools so I'm expecting good things from this book!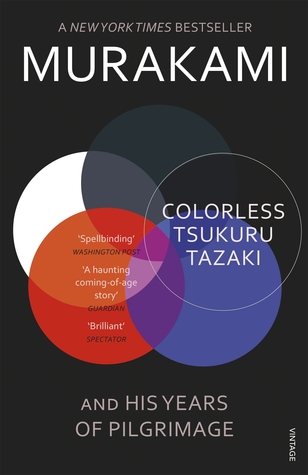 I can almost hear cries of outrage that I haven't read 'Six Of Crows' by Leigh Bardugo yet, especially when it's so obviously the kind of book I'd love. But I really wanted to finish her 'Grisha' series first and then take a little break so I come into it fresh. I'm ready to meet this ensemble of awesome characters I've heard so much about now!
That's right, I'm having another crack at 'Colourless Tsukuru Tazaki & His Years Of Pilgrimage' by Haruki Murukami. Like I said, I like literary fiction at this time of year, and I've never read one of Murukami's books before! I was going to read this in September, but didn't find time. Hopefully I can get to it this month!
Everyone knows that Marissa Meyer is probably one of my all time favourite authors. Not a single one of her 'Lunar Chronicles' disappointed me and I've been super excited about the sound of all her other books ever since. 'Renegades' is about super heroes and super villains, and I hope not only to see more of her futuristic visions, but also the complex, fun characters she often creates. I'm so lucky to have received an ARC of this book, and I'm not wasting another moment before reading it!