October doesn't just mean Halloween, it means the beginning of LGBT month, and so my timing for reading 'More Than This' managed to fall perfectly into place! I had to take a few moments to really pin my thoughts on this book, because it's a reading experience quite unlike any other that I've ever had. It didn't start off overly well I'll admit, because the first chapter of the book was an incredibly detailed drowning scene and being Aquaphobic that did mean I suffered a (thankfully minor) panic attack. On public transport. Obviously I didn't let that mar my view of the book as a whole, as that's something on my part and I did know from the blurb that something of the sort would probably happen. So with that, I'll continue my review!
SOURCE: Gift
TYPE: Paperback
TITLE: More Than This
AUTHOR: Patrick Ness
SERIES: --
PUBLISHER: Walker Books Ltd
PAGES: 480
GENRE: Young Adult, Science Fiction, Dystopian, LGBT
RATING: 4.5/5 Stars
Blurb: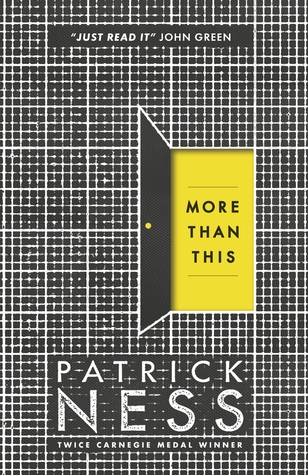 A boy drowns, desperate and alone in his final moments. He dies.
Then he wakes, naked and bruised and thirsty, but alive.
How can this be? And what is this strange deserted place?
As he struggles to understand what is happening, the boy dares to hope. Might this not be the end? Might there be more to this life, or perhaps this afterlife?
What I Liked:
By far, the most impressive aspect of this book was the plot-line itself. From start to finish I was completely gripped by it and page by page I found myself yelling 'What?!' or 'Oh my God!'. I actually read most of it through Sunday Night and Monday morning, and really didn't want to put it down to sleep. Ness built up a very impressive atmosphere as the book progressed, intermingling suspense, isolation and a sense of impending danger expertly. Very few books have captured my complete attention so spectacularly.

I really need to go a bit deeper into the beauty that is Patrick Ness' writing. What a masterful blending of genres! The book starts out feeling like...I guess some kind of Contemporary Literary fiction? It certainly feels very philosophical in nature. Then all of a sudden you're hit with the first signs of Sci-Fi Dystopian and yet the transition is so smooth that it feels right. You couldn't get genre types that are more on opposite sides of the spectrum and yet they are weaved together really well here. It made the book feel like nothing I had read before, which was definitely a good thing. I love seeing such creativity in writing.

Not only did it impress me, but I really felt like it gave my emotions a good punch too due to sum rather impressive characterisation. I loved the gay relationship in this book (told through a series of flashbacks) it really was very well written into the story and made my heart physically feel like it was hurting at times. Seth, the main character, is a complicated young man who I really sympathised with from the beginning, Characters that are met later on I absolutely adored! Regine was every bit the feisty, strong young lady I wanted to see and Tomasz was absolutely adorable and so funny that I just want him to be real so I can give him a huge great hug!
What I Disliked:
There are a couple of things that stopped me from giving it a full 5 stars. Firstly, this is a very deep book that touches on some very meaningful subjects. This means that the characters sometimes make time for sitting down and having philosophical discussions about life and all it's mysteries. Despite the fact that these were at times very interesting, I also felt they got in the way of the story a little bit. Due to the fact that these characters are meant to be in their late teens at the oldest (one is much younger) the conversations also felt a little forced at times.

In the same vein, the same philosophical tone to the book meant that it had an ambiguous ending. I am not a fan of endings that make me ask more questions than I had at the beginning of the book, and this one certainly did. It almost felt like a cliffhanger, but as there appears to be no sequel coming out, I'm still stuck not truly understanding what is going on. It's not a satisfying feeling.
Overall Conclusion:
This book is absolutely phenomenal. Those last two points that I didn't like don't really contribute a whole lot to the overall rating because what I felt while reading most of this book was a whole lot of love, and shock that I hadn't read Patrick Ness' work before. In other words, this has been a very successful first experience with his books and I shall be getting into more of them in the future. The world-building, characters, story and writing really impressed me in this one and I feel that if I found a book of his that is slightly less philosophy heavy, I would have a real winning formula!