Yeah, this book took me a long time to get round to. I know. Honestly, I've been a little scared off of the series by the bad reviews for Book 3 that littered my Goodreads and Bloglovin' dashboard after it was released. Nevertheless, the time has come to judge the series for myself and so with that, here is what I thought of 'Insurgent'. Also, I'm entering this into this month's 'Monthly Motif' challenge!
SOURCE: Bought
TYPE: Paperback
TITLE: Insurgent
AUTHOR: Veronica Roth
SERIES: Divergent (#2)
PUBLISHER: Harper Collins Children's Books
PAGES: 525
GENRE: Young Adult, Dystopian, Romance, Adventure
RATING: 4/5 Stars
Blurb: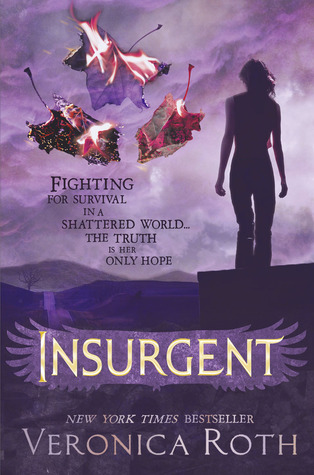 Tris has survived a brutal attack on her former home and family. But she has paid a terrible price. Wracked by grief and guilt, she becomes ever more reckless as she struggles to accept her new future.
Yet if Tris wants to uncover the truth about her world, she must be stronger than ever... because more shocking choices and sacrifices lie ahead.
What I Liked:
The plot itself was pretty good! I never once felt bored while reading , nor did I want to put the book down for breaks or to, you know, live life. Veronica Roth's writing continues to be just as good as I remember it being before. She deals with action sequences, twists and turns very well also meaning my interest never wavered. The finale in particular was really gripping and impressive, and left me wanting to read the next book to find out what happens. What a cliffhanger!

Tris is still the great character I remember her being. I loved that she has grown since the last book, with new fears and frustrations. She's just as badass as I remember her too and it is quite nice to see a female character perfectly able to get herself out of a situation without having to be rescued. And more importantly, no one really questions that (Dauntless is full of many girls as well as boys).
What I Disliked:
A lot of the other characters in the book, I'm sorry to say, felt a little one dimensional. There are a huge number of Dauntless that I remember being merely mentioned in Book 1, and then are treated in Book 2 as if I'm meant to know them all, their personalities their likes/dislikes and family. It got pretty confusing. Honestly to me, they felt like cannon fodder. A lot of them were severely injured or killed and I really felt like Roth had written them in purely for that. I wish I could have known them well enough to actually be sad about it.
Though the plot was good, I could tell that this was a filler book because it got a little repetitive. They were running, then staying at a 'safe' house, then running again. I felt like I was being taken on a guided tour of each faction (though the layout of the city was so confusing). Also while on her travels, I began to get confused about who Tris was actually travelling with. When Caleb appears at the end, I realised I had no idea when he'd actually disappeared. And at another point, Marcus suddenly popped into the conversation when I had no idea he was part of the group.
Overall Conclusion:
I did really enjoy this book, but certainly not as much as I loved 'Divergent'. The plot had me pretty hooked, the writing style flowed beautifully and Tris is a fantastic heroine. Unfortunately, I felt a little let down on the quality of the other characters in the book, and despite a cracking finale the rest of the book felt a little repetitive. Also, despite adoring Four and his relationship with Tris before, his hypocrisy when it came to trust and secret-keeping really got on my nerves here. Hopefully he calms down in Book 3!