I am a mere day into August and already I have finished a book! Okay...so I was basically done with it on the last day of July...but still I'm feeling very productive! I enjoyed this book too, so it's got me excited about reading number three when I get round to it!
SOURCE: Gift
TYPE: Paperback
TITLE: Moon Over Soho
AUTHOR: Ben Aaronovitch
SERIES: Peter Grant (#2)
PUBLISHER: Gollancz
PAGES: 373
GENRE: Urban Fantasy, Paranormal, Mystery
RATING: 4/5 Stars
Blurb: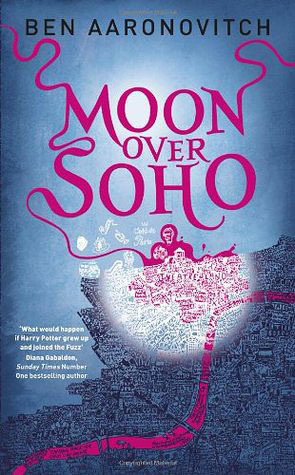 I was my dad's vinyl-wallah: I changed his records while he lounged around drinking tea, and that's how I know my Argo from my Tempo. And it's why, when Dr Walid called me to the morgue to listen to a corpse, I recognised the tune it was playing. Something violently supernatural had happened to the victim, strong enough to leave its imprint like a wax cylinder recording. Cyrus Wilkinson, part-time jazz saxophonist and full-time accountant, had apparently dropped dead of a heart attack just after finishing a gig in a Soho jazz club. He wasn't the first.
No one was going to let me exhume corpses to see if they were playing my tune, so it was back to old-fashioned legwork, starting in Soho, the heart of the scene. I didn't trust the lovely Simone, Cyrus' ex-lover, professional jazz kitten and as inviting as a Rubens' portrait, but I needed her help: there were monsters stalking Soho, creatures feeding off that special gift that separates the great musician from someone who can raise a decent tune. What they take is beauty. What they leave behind is sickness, failure and broken lives. And as I hunted them, my investigation got tangled up in another story: a brilliant trumpet player, Richard 'Lord' Grant - my father - who managed to destroy his own career, twice.
That's the thing about policing: most of the time you're doing it to maintain public order. Occasionally you're doing it for justice. And maybe once in a career, you're doing it for revenge.
What I Liked:
Aaronovitch once again displayed his fantastic world-building skills by combining a very in-depth knowledge of London with a hugely imaginative paranormal world. Now that I live in London I can appreciate it a lot more too, and actually have a much better idea of where those places are. At one point, during a very slapstick ambulance ride, I found myself yelling 'I work there!" at the book. Due to the fact that I know London well-ish, I found the paranormal side to the story intriguing and a lot of fun. Boy do I wish this was real!

The plot was really nicely put together and I preferred it to what I found in 'Rivers Of London'. The ending was definitely more satisfying, with the right touch of sombre (rather than all out ridiculous). It actually made me feel a little sad to read. As well as that, I hugely appreciated the consistent mentions of Jazz in this book. I'm a rather big fan of Jazz music and loved all the references to one of my favourite time periods of all time.
What I Disliked:
As I was reading this book, despite loving Peter Grant (the MC) in 'Rivers Of London', I realised that I don't really connect with him or many of the gang that he surrounds himself with. Peter is hilarious of course, and I adore his ironic humour, but he doesn't make me feel any real emotional connection to him. I was glad to see much less of Lesley (my least favourite character) but was horrified to find that actually Beverley Brook was not a permanent part of Peter's life, but had been brushed to the side and turned into a mere link in the chain of women that seem to want to seduce Peter Grant. Ugh.
Overall Conclusion:
This is my favourite of the series so far in terms of plot and the world-building just keeps getting better. I'm really not feeling a whole lot of love for the characters (except Peter's comedic genius). Nightingale bores me, Peter's inability to stop using women for sex frustrates me (but of course they all seduce him because that's what all women do apparently), Lesley strikes me as petty and selfish and using Peter's obvious feelings for her to be a bitch half the time, and frankly my favourite character is Molly. Nevertheless, the diversity of characters found in this book in terms of PoCs, LGBT characters, ethnic minorities and how they are portrayed was deeply impressive. More of that please!