I was pretty apprehensive about reading this book because it doesn't fall into a genre that I normally like to read. However, I was quite surprised to find that it surpassed my expectations and actually made me question my own view on those genres? Have I been missing out on gems like this the whole time? I will be entering it into the 'Jumble Your Genres' Challenge.
SOURCE: Bought
TYPE: E-Read
TITLE: The Sea Of Tranquility
AUTHOR: Katja Millay
SERIES: --
PUBLISHER: Atria Books
PAGES:
426
GENRE: Romance, New Adult, Contemporary, Young Adult
RATING: 4/5 Stars
Blurb: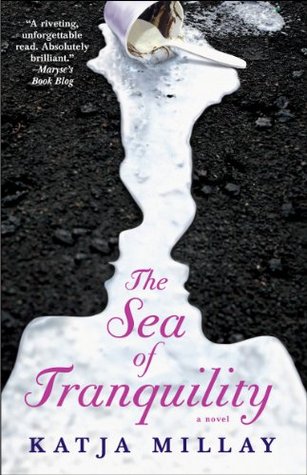 Former piano prodigy Nastya Kashnikov wants two things: to get through high school without anyone learning about her past and to make the boy who took everything from her—her identity, her spirit, her will to live—pay.
Josh Bennett's story is no secret: every person he loves has been taken from his life until, at seventeen years old, there is no one left. Now all he wants is be left alone and people allow it because when your name is synonymous with death, everyone tends to give you your space.
Everyone except Nastya, the mysterious new girl at school who starts showing up and won't go away until she's insinuated herself into every aspect of his life. But the more he gets to know her, the more of an enigma she becomes. As their relationship intensifies and the unanswered questions begin to pile up, he starts to wonder if he will ever learn the secrets she's been hiding—or if he even wants to.
What I Liked:
The lead couple, from whom we hear the story, were probably my favourite thing about the book. Why? Because for the first time in a while I have found a book that doesn't contain insta-love. Their relationship actually builds into a believable relationship. Not to mention that as characters they are very interesting. I loved reading from Josh's POV more than Nastya's but I'll explain why later.

The characters around the two leads were interesting, and took on more than just a side character role. I felt like they actually contributed to the story. For example: Drew. When I first met him I thought he would just be the arrogant joker of the story, who didn't really do an awful lot. Boy, was I wrong!

The plot was actually pretty gripping, especially towards the end of the book! In the later stages, things really start to pick up and I didn't want to put the book down. I wanted to find out what happened next! There were a few plot twists too which made things even more interesting.
What I Disliked:
To be perfectly honest, the book was a little bit of a slow starter. In the first quarter or so I found things a bit repetitive, and though I wasn't bored, I wasn't riveted either. As I mentioned above, this did change as the book continued, and this is why I always make sure I finish books before reviewing them rather than not finishing them the moment the pace drops. This beginning wasn't helped by the slightly confusing Chapter/POV layouts either.

Although I did like Nastya's character, some of her logic didn't quite work for me. She spends the whole time wishing people would leave her alone, and then dresses like that? Her reasons for making the decisions that she does weren't really clear either and I only really connected with her towards the end. I also felt like her mysterious past had a little too much build-up to it. We know that something terrible happened to her and spend the whole book thinking of the most twisted, awful things only to find that it wasn't that twisted after all (though don't get me wrong, still terrible).
Overall Conclusion:
There were so many good things about this book. Millay writes really well and I was impressed by how quotable her book was and how much I actually enjoyed it! The romance was spot-on, especially with the timing and the characters were well-written. I wish that Nastya had been a little clearer as a character and that it hadn't taken me so long to get into the book. Also, why the Author chose to give the boy that did those terrible things to Nastya an excuse (and it was a pretty terrible one) I will never understand. A great read which I can happily say made me rethink my bias towards New Adult and Romance, providing that it has a bit of extra depth in it like this one does!