Oh dear, I'm afraid that I was a little disappointed with this one. It definitely wasn't the best book to end January on. Still, there were a few moments worth mentioning!
SOURCE: Netgalley
TYPE: E-Read
TITLE: A Song For Ella Grey
AUTHOR: David Almond
SERIES: --
PUBLISHER: Hodder Children's Books
PAGES: 293
GENRE: Young Adult, Romance, Fantasy, Retelling
RATING: 1.5/5 Stars
Blurb: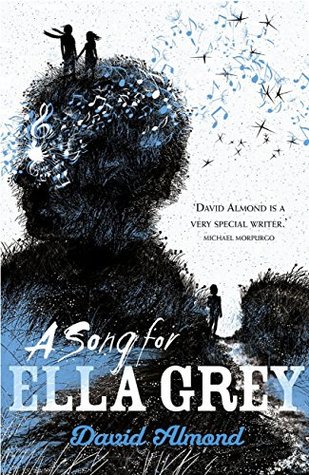 Claire is Ella Grey's best friend. She's there when the whirlwind arrives on the scene: catapulted into a North East landscape of gutted shipyards; of high arched bridges and ancient collapsed mines. She witnesses a love so dramatic it is as if her best friend has been captured and taken from her. But the loss of her friend to the arms of Orpheus is nothing compared to the loss she feels when Ella is taken from the world. This is her story - as she bears witness to a love so complete; so sure, that not even death can prove final.
What I Liked:
Despite the low rating, I did like the connection to the original Greek Myth of 'Orpheus & Eurydice'. It had a coherent plot-line with both clear and subtle references to the source material that I really enjoyed picking out. For example, it didn't just focus on the love story, but other aspects of Orpheus' life (his time travelling pre-Eurydice, his death, etc.) and I was thankful that it at least stuck to the Myth well. The different world in which it was set (North England, rather than Greece) shone through as well and made for interesting reading.
What I Disliked:
I'll start with the characters because they were my biggest dislike. The narrator and 'main' character may as well have not been there. All she did was complain that she was losing Ella, reminisce over her childhood with Ella and generally talk about how much she adored Ella. There was no character development for her at all, she just constantly came across as a miserable, clingy child. Ella & Orpheus were even worse. I know Ella (or Eurydice) was meant to be 'Fairy-like' but must she giggle and kiss everyone all the time? And of course, why give Orpheus an actual personality when he can just grab his Lyre and sing until everyone loves him. Where was the romantic development? Because from what I read, people can now fall in love over the phone. The rest of 'the gang' faded into oblivion in my mind and as for what seemed to be the only teacher in school, his constant berating of his students and outburst about the terrible curriculum had no place in the story.

The writing in this book just became a bit too frilly for my liking. I like it when a book is a little poetic,but only when it comes naturally. This writing style felt forced and like Almond was trying too hard to be fancy and dramatic with his words. Half the time I ended up skimming yet another passage about Orpheus charming the birds and bees and rocks with his lyre and I honestly felt either bored or was laughing my head off. Rather than make the book meaningful or beautiful, it made it ridiculous and slightly nauseating.
Overall Conclusion:
What more is there to say? The world-building was okay, it did stick to the Myth and it had a coherent plot-line that didn't confuse me. But it also tried far too hard to be the world's most philosophical book and I wasn't convinced. It had the world's fastest insta-love which I hated, and the characters were dull and had no real impact or personality at all. Also, I feel like Almond really wanted this book to be an ode to Youth and I have never seen or heard of teenagers behaving or talking like that in my life. Sorry.