I finally got round to reading a book by the extremely popular YA author Sarah J. Maas. It had to be this one because of course, it's a Fairy Tale retelling! I've always loved 'Beauty & The Beast', as well as being intrigued by 'Tam Lin' so this was a great crossover book of the two!
SOURCE: Bought
TYPE: E-Read
TITLE: A Court Of Thorns & Roses
AUTHOR: Sarah J. Maas
SERIES: A Court Of Thorns & Roses (#1)
PUBLISHER: Bloomsbury Children's
PAGES: 432
GENRE: Fantasy, Paranormal Romance, Young Adult/New Adult
RATING: 3.5/5 Stars
Blurb: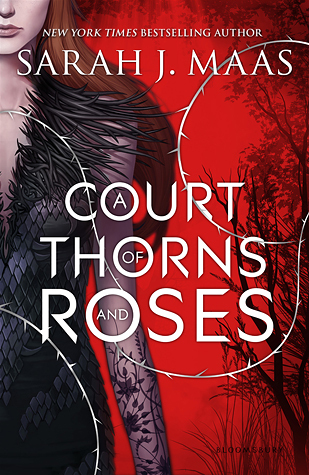 When nineteen-year-old huntress Feyre kills a wolf in the woods, a beast-like creature arrives to demand retribution for it. Dragged to a treacherous magical land she only knows about from legends, Feyre discovers that her captor is not an animal, but Tamlin—one of the lethal, immortal faeries who once ruled their world.
As she dwells on his estate, her feelings for Tamlin transform from icy hostility into a fiery passion that burns through every lie and warning she's been told about the beautiful, dangerous world of the Fae. But an ancient, wicked shadow grows over the faerie lands, and Feyre must find a way to stop it...or doom Tamlin—and his world—forever.
What I Liked:
The characterisation in this book for the most part was good. I enjoyed reading from Feyre's perspectives, and Maas built a lot of personality into side characters such as Lucien and Rhysen. I hope to see more of them in the next book because they were great! To begin with, I liked Tamlin too though as things went on I began to dislike his constant brooding and I'm a little suspicious of his true motives.

The promise of the future was one thing I really liked about this book. The romance looks to make a possible turn down love triangle lane in the future, and though I'm not normally a fan, I feel that Maas might do something interesting with the trope and I'm excited to see what kind of development she'll employ with the world-building, characters and story.
What I Disliked:
I did enjoy this book, and yet I was a little disappointed that it didn't totally blow me away. It had such potential! But the pacing was a little all over the place and I found most of the world-building in an info-dump from Alis later in the book. Not only that but the villain was absent from most of the book and didn't really have a lot of substance to her. I would like more development next time around.
Overall Conclusion:
This was a really great book, and a very imaginative adaptation of the original Fairy Tales it drew it's source material from. I like that Maas has taken ideas from so much lore and look forward to seeing more development of this in the future (I'm thinking a Hades & Persephone style story-line? My favourite myth!). There are a lot of things I liked but in the end, I really wanted a little more from such a highly acclaimed author and series. I have good feelings about the next book though!