I struggled a little with this topic because while I really feel passionately that children should be exposed to other books alongside the great classics, I had to think hard about my choices. I loved reading books like 'Pride & Prejudice' or 'To Kill A Mockingbird', but not everyone I know did and I think it's important that a more diverse genre list is introduced to young people so they don't class reading as 'boring' just because they don't like classics.
1) 'The Invention Of Wings' by Sue Monk Kidd.
Classic Pair: 'To Kill A Mockingbird' by Lee Harper.
Books like 'To Kill A Mockingbird' deserve their classic status because it does such a great job of portraying prejudice and racism of the 1920s despite the abolition of slavery previously. 'The Invention Of Wings' is set before the abolition of slavery and I think reading the two side by side will provoke a lot of discussion about whether things had really changed one hundred years later, despite the law stating so. 2020 is almost upon us, is racism an issue even now?
...paired with...
2) 'Noughts & Crosses' by Malorie Blackman.
Classic Pair: 'Romeo & Juliet' by William Shakespeare.
I was originally going to pick 'The Fault In Our Stars' by John Green to pair with Shakespeare's tragic tale of two star-crossed lovers destined to die, for obvious reasons. In the end however, I felt Blackman's race reversal a more appropriate choice. In fact, I think this book generally needs to be studied by more people, because Blackman so masterfully executes an ironic twist to racism as a whole and really brings the stupidity of judging someone by the colour of their skin to attention.
...paired with...
3) 'The Hunger Games' by Suzanne Collins.
Classic Pair: 'Lord Of The Flies' by William Golding.
While there are obvious differences between Collins' hit YA Dystopian, and an obvious classic choice for this one could also be George Orwell's 1984 due to the inclusion of Government control, surveillance and rebellion, what really struck me about this book was the Games themselves, and the brutality of reading about children fighting and killing each other. Golding's horrifying read creates a Dystopian story in it's own right, wherein a plane crash lands on an Island leaving only a group of children as survivors, and becoming progressively darker as the children split off into savage tribes. There are so many parallels to be drawn with these two books especially as both make comment on 'civilised' society and what it really means.
...paired with...
4) 'The Perks Of Being A Wallflower' by Stephen Chbosky.
Classic Pair: 'The Secret Garden' by Frances Hodgson Burnett.
Not an obvious choice perhaps, but when I read 'The Perks Of Being A Wallflower', it somehow reminded me of this well-loved children's classic. 'The Secret Garden' tells the tale of three children who, in the unlikeliest of circumstances, become friends. They face many battles and uncertainties, are exposed to bereavement, anger and to a degree mental health issues, and provide a wonderful 'coming of age' tale as they grow up. 'The Perks Of Being A Wallflower' also does these things though in a modern setting with teenagers. I loved both stories and felt like a lot of comparisons could be made.
...paired with...
5) 'The Dark Days Club' by Alison Goodman.
Classic Pair: 'Pride & Prejudice' by Jane Austen.
'The Dark Days Club' is actually a straight-up retelling of 'Pride & Prejudice' which is why I chose it. Like the popular choice for this book, 'Pride & Prejudice & Zombies' there is a paranormal element to it. But I chose this 2016 release because I felt it gave the story a different spin and plenty of interesting twists to keep readers interested. I loved the original, but plenty of people find Austen's work a little difficult to get into so they may appreciate Goodman's attempt to inject some fun into it.
...paired with...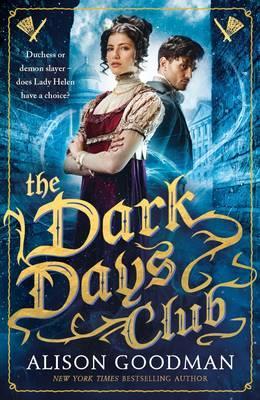 6) 'Let The Right One In' by John Ajvide Lindqvist.
Classic Pair: 'Dracula' by Bram Stoker.
It's true to say that Vampires have changed over time in the media from bloodsucking, terrifying creatures to sexy, sometimes sparkly guys trying to 'be normal'. When I read 'Dracula' I welcomed the classic vampire back into my life with great enthusiasm, as while the sexual intonations were there, Dracula was still the bad guy. The only other book to really get me excited about vampires again was 'Let The Right One In' by Swedish author John Ajvide Lindqvist. I was originally going to pair 'Dracula' with 'The Historian', Elizabeth Kostova's tantalising, loose sequel to Stoker's masterpiece, but I felt like 'Let The Right One In' is a far more enjoyable read for a wider audience.
...paired with...
7) 'The Graveyard Book' by Neil Gaiman.
Classic Pair: 'The Jungle Book' by Rudyard Kipling.
It took me a while to make the connection that 'The Graveyard Book' was an adaptation of Kipling's classic, but I really liked this re-imagining. The animals found in 'The Jungle Book' are transformed into ghosts, desperate to hide a small child from a man this time, but with Shere Khan's cruel tendencies and stubbornness. It's so easy to see the character archetypes for Bagheera, the wolves, etc. and I think that a lot of young teens would enjoy comparing the two. Gaiman has a real way of inspiring the imagination too!
...paired with...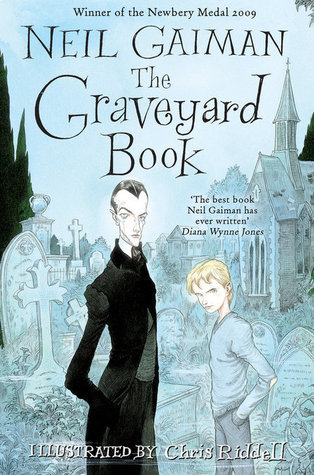 8) 'The Bees' by Laline Paull.
Classic Pair: 'The Handmaid's Tale' by Margaret Atwood.
Most people I know have at least heard of 'The Handmaid's Tale' and are aware of it's basic plot-line, even without reading it. A Dystopian in it's own right, I really like the idea of using Laline Paull's 'The Bees' for comparison. Paull's book is interesting because as the title suggests, it is literally told from the POV of a young bee who, despite her given role in life as a worker, cannot stop herself from laying eggs which is a role taken only by the queen. Paull examines how beehives work very well and I love the idea of a 'hive mind', a hierarchy, and even some slightly religious undertones thrown in for good measure.
...paired with...
9) 'The Book Thief' by Markus Zusak.
Classic Pair: 'Fahrenheit 451' by Ray Bradbury.
I have never read 'Fahrenheit 451', but I do know it's basic premise: book burning and censorship. When someone was describing the plot to me, the book that instantly came to mind was 'The Book Thief' by Markus Zusak, and that is why I've chosen these as a duo. There is not a single person I know who has read 'The Book Thief' and didn't enjoy it, it is in fact my favourite book of all time. In terms of a classroom setting, while Bradbury's world is purely fictional, I think it would be interesting to discuss Hitler's regime and book-burning as a real-life event that directly aligns with 'Fahrenheit 451's world.
...paired with...
10) 'The Bloody Chamber' by Angela Carter.
Classic Pair: 'The Book Of Lost Things' by John Connolly.
I really would like to give Angela Carter's work a try, but thanks to a friend of mine studying A-Level English, I did get to read a couple of the stories in this book. I have to say I was distinctly impressed by Carter's style and the dark tone that she cast upon each classic tale. A recent read of mine, 'The Book Of Lost Things' gave me exactly the same feeling and it's for that reason that I've paired the two together. Fairy Tales are the root of all stories so a class on darker adaptations would not only be a lot of fun, but would provide for some interesting analysis.
...paired with...