So I've finally tackled this book, and it was worth the wait and the huge amount of reading time. 'A Game Of Thrones' has received so much hype and been recommended to me so much that I couldn't wait to get into it! I'm a few episodes into Season 2 of the TV Series so had a pretty good idea of what this book would hold in terms of plot. Still, it continued to surprise me and my worries that watching the show would ruin my reading experience were unfounded. I'm going to use this book as an extra entry for the 'Jumble Your Genres' challenge as it counts, in my eyes, as a High Fantasy read.
SOURCE: Gift
TYPE: Paperback
TITLE: A Game Of Thrones
AUTHOR: George, R.R. Martin
SERIES: A Song Of Ice & Fire (#1)
PUBLISHER: Harper Voyager
PAGES: 780
GENRE: High Fantasy, Epic Fantasy, Adult
RATING: 4.5/5 Stars
Blurb: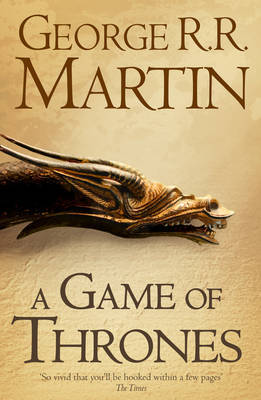 Summers span decades. Winter can last a lifetime. And the struggle for the Iron Throne has begun.
As warden of the North, Lord Eddard Stark counts it a curse when King Robert bestows on him the office of the Hand. His honour weighs him down at court where a true man does what he will, not what he must...and a dead enemy is a thing of beauty.
The old gods have no power in the south, Stark's family is split and there is treachery at court. Worse, the vengeance-mad heir of the deposed Dragon King has grown to maturity in exile in the Free Cities. He claims the Iron Throne.
What I Liked:
The best part of this fantastic start to the 'A Song Of Ice & Fire' saga was by far the plot. It was full of twists and turns that kept me hooked to every word that I read. I had been worried that having an insight into the plot by watching some of the TV series would ruin it for me, but I found that actually Martin's words kept me on my toes. His writing was fantastic and there were some great moments in this story. It was good to see as well how closely the TV Series actually follows the book. I really liked the structure and mixture of viewpoints that Martin wrote from too, it added to the story and broke it up nicely.

The characters were very well-written. I found myself growing very attached to a lot of them. Tyrion was hilarious, Daenerys likeable and strong, and I found myself really liking Renly Baratheon too! The book definitely gave that vibe of 'trust no-one' and yet I found myself characters such as Varys all the same. The characters that I was meant to hate I despised and recoiled in horror as their actions grew increasingly terrible and devious. Each character had personality, and it made for much easier reading.
The settings were well-described, but not so much so that it became boring. Martin had put a lot of thought into this world before writing it and I really appreciated the history, the alliances and oaths and the wars that had happened before the book. In other words, back-story was key to the understanding of this book and Martin provided lots, without overloading me with information.
What I Disliked:
As often found in Epic books such as this one, there were a lot of characters. And while I found many stuck out like a sore thumb, many also faded into the background, and with that, came confusion. At many points I found myself asking 'Who was that again?' and I often referred to the character list in the back of the book to remind myself. I feel as well that if I hadn't watched the TV Series prior to reading this book, I would have been even more confused and lost at some points.
Overall Conclusion:
This was an amazing start to the series. The characters were well-written and full of life, or at least, the ones that I needed to remember were. The rest did seem to mingle together as one and I did sometimes get muddled up when they became more important later. I found that the story was easy enough to follow however, with a gripping plot-line and a beautifully built word rich with history. Martin has done a great job here and I can't wait to read more!