I loved this book. I really don't think there's much else to say other than that because it's my favourite read of the month if not the year so far! Wow! I'm having such a good Contemporary YA year!
SOURCE: Netgalley
TYPE: E-Read
TITLE: Radio Silence
AUTHOR: Alice Oseman
SERIES: --
PUBLISHER:
Harper Collins Children's Books

PAGES: 337
GENRE: Young Adult, Contemporary, LGBT

RATING: 5/5 Stars
Blurb: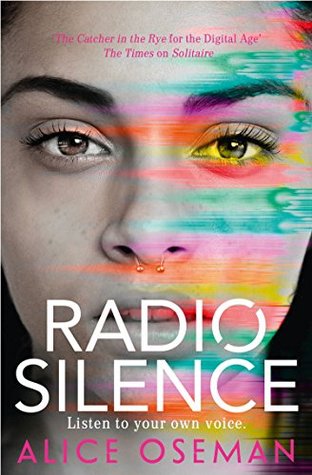 What if everything you set yourself up to be was wrong?
Frances has always been a study machine with one goal, elite university. Nothing will stand in her way; not friends, not a guilty secret – not even the person she is on the inside.
But when Frances meets Aled, the shy genius behind her favourite podcast, she discovers a new freedom. He unlocks the door to Real Frances and for the first time she experiences true friendship, unafraid to be herself. Then the podcast goes viral and the fragile trust between them is broken.
Caught between who she was and who she longs to be, Frances' dreams come crashing down. Suffocating with guilt, she knows that she has to confront her past…
She has to confess why Carys disappeared…
Meanwhile at uni, Aled is alone, fighting even darker secrets.
It's only by facing up to your fears that you can overcome them. And it's only by being your true self that you can find happiness.
Frances is going to need every bit of courage she has.
What I Liked:
There were so many great things about this book, but above all Oseman was 100% spot on about characters and relationships here! Frances was a great MC, so relateable in her desperate bid to 'fit in' when in fact she was a completely different person. I loved her platonic friendship with Aled: no romancing or love interests here! Oseman is also responsible for the best portrayal of a gay relationship that I've ever had the pleasure of reading. That's not exaggeration. Not to mention a perfect example of a great Mum and child relationship versus a very toxic one

I loved the diversity and themes covered in this book: depression and suicidal thoughts, stress, the education system, runaways, etc. And it does so in a thoroughly relateable way. Oseman writes so well too, a real talent! Also, while speaking of relateable, these characters are actually just like real teens: they get ill, they go to the toilet, they are not all white and straight, they PLAY THE SIMS, they text and use social media, all things I did as a teen! I almost cried with relief because reading some books about teen life is almost like stepping into a parallel universe without this stuff!
What I Disliked:
Okay this isn't really much of a dislike because I loved the drama and 'teens on a mission' feel of it all, but the end of the book really felt a little on the bizarre side. Aled's mother was almost ridiculous in her villainy and there was a car chase and everything. Again, I LOVED it and didn't care, but I wrote it here because I can imagine that if anyone's going to take offence with this book, that will be the reason.
Overall Conclusion:
This book is so awesome and as I've already said, probably my favourite read of the year so far. I loved it! Alice Oseman is certainly a talent I've been missing out on, I don't want to make the same mistake again and while I've been having a great year so far with YA Contemporary, this is the icing on the cake! I want to be friends with all the characters, am left with a bazillion feels, can't believe I've finally read a book set in Kent (my home county) and NEED MORE ASAP. 'Solitaire' is well and truly on the TBR, that's for sure!