This month has been much better for me than it was before! I actually read five books! One of them wasn't on my intended TBR, but I'm still very pleased with my progress and can't wait to share my reads with you!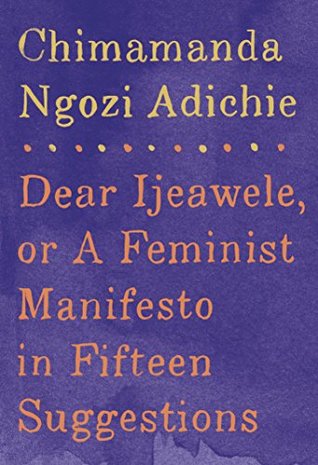 'A Darker Shade Of Magic' by V.E. Schwab. I loved this book. I'd heard a lot about it from various book bloggers in my circle that love YA Fantasy, and while I took a long time getting round to it I found it to be well worth the wait. Firstly, the characterisation was great. I loved Kell and Lila, particularly as their relationship was friendship orientated and held no romantic interest. The best bit of this book was the world-building though. It took a very simple premise and made it into something really cool - parallel universes that didn't feel in the least bit sci-fi! 5/5 Stars.
'Dear Ijeawele, Or A Feminist Manifesto In Fifteen Suggestions' by Chimamanda Ngozi Adichie. I read this on the train home because I wanted a really short read for the half hour journey, and was in the mood for some non-fiction! Adichie is probably one of my favourite feminists - I have watched her talking online about so many different topics but it always relates back to feminism. I've also read and loved 'We Should All Be Feminists' and think it's vital reading if you're interested in the topic. This book felt more personal as it was addressed to a friend and not a general audience, but still rung true and held some great suggestions. 4.5/5 Stars.
'Noteworthy' by Riley Redgate. Another great read from this month, May was full of them! You may all be aware that Contemporary YA is not my usual thing. This year I've been really trying to read more of the genre to get more of an understanding of it at it's best and I've found some awesome books as a result. This was one of them. The book was almost flawless - oodles of diversity, great characters, engaging plot and a setting that sent me flying back to my own education. I deep, reflective commentary on American society that Redgate snuck in there too. Great stuff! 5/5 Stars.
'The Trap' by Alan Gibbons. While this was my most disappointing read of May, it was by no means the worst book I've ever read. It actually exceeded my expectations because I was deeply worried that it's controversial subject would promote a message I didn't agree with. However, as it turned out, it did the exact opposite. Two of the three POVs were really interesting and gave such insight into Muslim life and how ISIS operates, while one was extremely boring and almost made parts of it unreadable. 2.5/5 Stars.
'The Memoirs Of Sherlock Holmes' from 'The Complete Sherlock Holmes' by Sir Arthur Conan Doyle. I felt that it was about time I got to another collection of short stories from the famous author of everyone's favourite detecting duo. I don't think stories revolving around Sherlock Holmes will ever get old for me. I love Holmes' sarcastic nature and his methods of deduction are fascinating to watch in action. These stories introduced both Mycroft and Moriarty, two beloved characters from the series, and they were everything I imagined they would be. 5/5 Stars.
Now it's time to see how I did with my challenges this month!
This month I have read two books for the Netgalley & Edelweiss Challenge, bringing my yearly total so far to thirteen. My reads were:
This month I have read two books for the 2017 New Releases Challenge, bringing my yearly total so far to four. My reads were:
- Dear Ijeawele, Or A Feminist Manifesto In Fifteen Suggestions
This month I have read two books for the Diverse Reads Challenge, bringing my yearly total to seventeen. My reads were:
Next up, here's how my Bookish Bingo card ended up for the final month of the challenge!
Muslim Main Character: The Trap; Alan Gibbons
Paranormal: The Rest Of Us Just Live Here; Patrick Ness
Just Words On Cover: Not If I See You First; Eric Lindstrom
Sisters: Three Dark Crowns; Kendare Blake
Magic: Hidden Huntress; Danielle L. Jensen
Non Fiction: Dear Ijeawele, Or A Feminist Manifesto In Fifteen...; Chimamanda Ngozi Adichie
Series Finale: Homecoming; Claire Legrand
Thriller: Blood For Blood; Ryan Graudin
Freebie: --
PoC On Cover: Radio Silence; Alice Oseman
Multi POV: A Darker Shade Of Magic; V.E. Schwab
LGBT+ Main Character: Fairy Tales For Modern Queers; Emily Reed
Adapted To TV/Movie: The Memoirs Of Sherlock Holmes; Arthur Conan Doyle
2017 Debut: Noteworthy; Riley Redgate
Retelling: Ash; Malinda Lo
Scary: The Loney; Andrew Michael Hurley