On my way home from Ashford I decided I wanted to read something short, that I would get through during the journey! I decided to go with this non-fiction piece by one of my favourite feminists! It's styled as a letter to a close friend but there's some great ideas in their about how we, as feminists, can go about raising our children so that they are more aware of the society they live in and how it can be changed.
SOURCE: Bought
TYPE: E-Read
TITLE: Dear Ijeawele, Or A Feminist Manifesto In Fifteen Suggestions
AUTHOR: Chimamanda Ngozi Adichie
SERIES: --
PUBLISHER:
Knopf

PAGES: 80
GENRE: Non Fiction, Essays

RATING: 4.5/5 Stars
Blurb: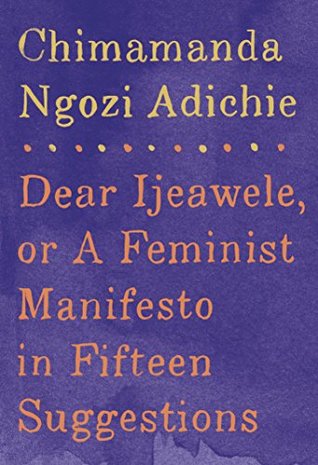 A few years ago, Chimamanda Ngozi Adichie received a letter from a dear friend from childhood, asking her how to raise her baby girl as a feminist. Dear Ijeawele is Adichie's letter of response.
Here are fifteen invaluable suggestions - compelling, direct, wryly funny, and perceptive--for how to empower a daughter to become a strong, independent woman. From encouraging her to choose a helicopter, and not only a doll, as a toy if she so desires; having open conversations with her about clothes, makeup, and sexuality; debunking the myth that women are somehow biologically arranged to be in the kitchen making dinner, and that men can "allow" women to have full careers, Dear Ijeawele goes right to the heart of sexual politics in the twenty-first century. It will start a new and urgently needed conversation about what it really means to be a woman today.
What I Liked:
As usual Adichie has totally hit the nail on the head. I've listened to her talk and read 'How To Be A Feminist' so know her thoughts of current feminism and society right now. This book takes a little glimpse into the future about how we, as feminists, have a responsibility to raise our children to be forward-thinking in the same way. Adichie gets it so right and being Nigerian, it's interesting to read about it from a different cultural standpoint too.

I actually think most, if not all, of these suggestions are not only helpful but make a lot of sense and show great perception and intelligence. They are purveyed in the style of a humorous letter to a close friend and it was a nice tone for the piece. It made it feel more personal.
What I Disliked:
Again, what I disliked was not a huge issue for me. The biggest thing for me was probably the length (it was short, but I kind of liked that too because I got it finished in half an hour and I felt like I achieved something) and while I liked the personal nature of a letter, there was a sense of reading something private that I wasn't supposed to.
Overall Conclusion:
This was a fantastic read. It's short but very honest and from the heart, and has re-affirmed Adichie as my favourite feminist. Her thoughts are very in line with my own and every time I read or watch her, I feel like I learn something! The book contains some great suggestions for the future and how we can continue spreading the message of feminism to the next generation. Every feminist should read Adichie's essays!