Wow. Has it been that long since I did a Top Ten Tuesday post? I'm actually really sad that I haven't been able to keep on top of these like I wanted to, because I really love this meme! This is a great topic to dip into it again though! I have so many. I've decided to focus solely on 2017 releases rather than books I generally plan to read!
1) 'How To Stop Time' by Matt Haig.
Publication Date:
July 6th 2017
I have, for a long time, wanted to read one of Matt Haig's fictional works. Having read 'Reasons To Stay Alive' and following his Twitter, I'm getting vibes that I'll enjoy it very much! I read the synopsis of this one and really liked it! A classic love story with a bit of a twist: immortality. I like the idea of it not being down to vampires or monsters, but a rare condition. I think this is going to be a really cool book!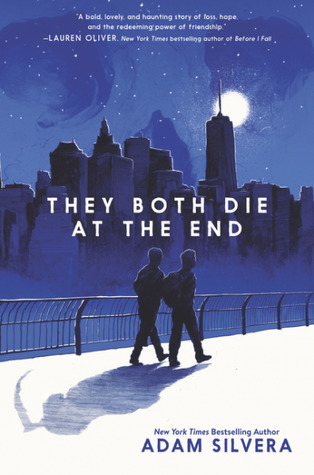 2) 'They Both Die At The End' by Adam Silvera.
Publication Date: September 5th 2017
This is a bit of a leap forward in time, and I've never read anything by Adam Silvera, but the synopsis of the story is really interesting! A mysterious company that tells people when they're going to die? An app that lets you find people to spend your last day with? Very dystopian, and it has been a while since I read good Dystopian fiction! I think this could be a very reflective piece of writing too and have heard great things about Silvera's writing, so I'm excited!
3) 'Girls Made Of Snow & Glass' by Melissa Bashardoust.
Publication Date: September 5th 2017
That title just screams Fairy Tales, right? And I love them! This one intrigued me especially due to it's association with Feminism and classic retellings such as 'The Bloody Chamber' by Angela Carter. The synopsis very heavily alludes to 'Snow White' but with a more rounded, fresh outlook on the roles of the Evil Queen and Snow White respectively. Women fighting to change the lives set out for them by the men in their lives, I really hope for a kick-ass, original ending to this tale.
4) 'One Dark Throne' by Kendare Blake.
Publication Date: September 19th 2017
*Hyperventilates*. How can this book not appear on my most anticipated TBR for the latter half of 2017? I read 'Three Dark Crowns' last month and it was one of my favourite reads of April! There were a few issues with the pacing, but I loved Blake's writing style and intense plotting when it came to the three sisters battling it out for the throne. I thought I knew exactly how it would pan out, and I was totally wrong. It also gave me some 'Game Of Thrones' vibes but as I'm such a fan of the show, this worked in it's favour! I can't wait to read it's sequel and uncover fresh intrigues, mysteries and plots though I'm still secretly rooting for a happy ending for all...
5) 'That Inevitable Victorian Thing' by E.K. Johnston.
Publication Date: October 3rd 2017
I am all about anything released by E.K. Johnston after reading 'A Thousand Nights' all that time ago, and this is a release that has really caught my eye! It is set in the near future, but with a huge change in history that means while technology has advanced, a Victorian outlook on the world still remains. There are balls, and a Queen (directly descending from Queen Victoria), political intrigue and even pirates! I'm really excited by the ARC reviews I'm seeing about the intricacies of the world-building and it's appeal for history nerds (which I am, proudly) so this is looking like a real winner!
6) 'All The Crooked Saints' by Maggie Stiefvater.
Publication Date: October 10th 2017
Would you all shoot me if I said I haven't read anything by such a famous author yet? Hopefully not, because it's true. I've heard wonderful things of course, and keep meaning to, but have just never got round to it. Still, this could be a great place to start and definitely sounds very different from her other works. I'm loving the idea of some potential Hispanic representation going by the names and setting (Colorado, USA). It's been labelled as Fantasy too, so I'd be interested to see how magical elements are incorporated into this story.
7) 'The Curses' by Laure Eve.
Publication Date: October 10th 2017
'The Graces' is a book I read back in 2016, during it's debut year, and loved it. The unreliable narrator thing was really interesting, and I loved it's focus on how rumours can change lives for better or for worse. It had great Southern Gothic charm and ended with a little bit of a cliffhanger, so I'm thinking it would be cool to read the second book and see what happens! It's going to be narrated by Summer this time, who was my favourite character in book one so that's another bonus! Hooray!
8) 'A Skinful Of Shadows' by Frances Hardinge.
Publication Date: October 10th 2017
I liked the first Hardinge book I read, 'Cuckoo Song'. I loved the second, 'The Lie Tree'. I figure that this is going to be even better! I was pleased to read another historical setting, the English Civil War, and even happier to see that it would include ghosts! Hardinge is great with incorporating a dash of horror into her Fantasy novels so this should be great! Also, my favourite books are normally comprised of a gang of reluctant allies who are a little shadier so I like the sound of outcasts, misfits, criminals and angry, dead bears very much!
9) 'Retribution Rails' by Erin Bowman.
Publication Date: November 7th 2017
Yes, yes, a thousand times yes! I actually majorly freaked out (in a good way) when I saw 'Vengeance Road' was getting a sequel because it's still so memorable to me as being one of the best reads I've had. Cowboys plus YA? Yes please! Bowman did it so well before too and while this story is told from the POV of new characters, I have a feeling we'll be meeting old friends along the way! I sure hope so anyway! Also, look at that gorgeous cover! I think I'd go so far as to say it tops book one, and there's no way I'm not owning a physical copy of this.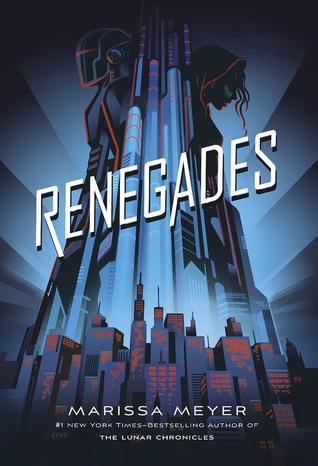 10) 'Renegades' by Marissa Meyer.
Publication Date: November 7th 2017
This is probably the book I'm most excited about, and it's the last to be released! Everyone who has read and loved 'The Lunar Chronicles' series will know why too. Meyer is back! And this time with a story about superheroes, which along with Fairy Tales, is another love of mine! There's no way I'd ever be missing this first installment of a new series by Meyer. I've vowed to read everything by her of course, she's that good!