October went really well! I managed to read six books, and most of them were the spooky October reads I'd been hoping for!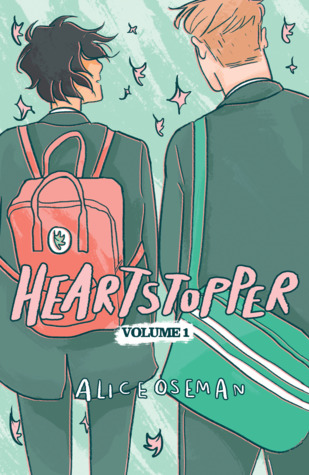 'Starfighter [Ch.1]' by Hamlet Machine. Hmm. I really wanted to find a new M/m comic to get on board with, and I loved the sci-fi setting for this one but I'm really not a fan of dubious consent. I'm hoping to see more of a development later in Cain's character, but right now he's a jerk. 3/5 Stars.
'Heartstopper [Vol.1]' by Alice Oseman. I have been waiting to read this. As soon as I found out that it existed I jumped onto reading 'Solitaire' so that I could meet the characters, Nick & Charlie, before reading them here. This is a great LGBT+ comic, I loved the romance and the English Grammar School setting! 5/5 Stars.
'As Kingfishers Catch Fire' by Gerard Manley Hopkins. I was really in the mood to read some poetry, and Autumn makes me especially appreciative of nature. I liked the journal excerpts here a lot as far as descriptions of the wilderness go, but wasn't a fan of the preachy poetry or it's slightly bizarre rhythm. 2.5/5 Stars.
'A Sudden Light' by Garth Stein. This ghost story really took me by surprise, I enjoyed it immensely! I can't believe it took me so long to read! I particularly loved the mystery and supernatural elements, as well as the interesting characters. I just wish the pacing had been a bit quicker. 4.5/5 Stars.
'The Twisted Tree' by Rachel Burge. This was certainly an enjoyable, thrilling story with great references to Norse culture, mythology and life. I liked the constant twists too, but found the MC a bit too self-deprecating and didn't really feel the romance. Also, there's a bit too much left unresolved at the end. 3.5/5 Stars.
'The Hatch' by Joe Fletcher. Another book of poems, this time a little more on the bizarre side of things. I liked the dark tone, sense of humour and visuals this collection conjured up. However, I did find that I didn't really feel anything while reading, nor did I find any of it all that memorable, and that was a big problem for me. 2.5/5 Stars.
This month I read three books for the Beat The Backlist Challenge, making my yearly total so far thirty two.
- As Kingfishers Catch Fire
This month I read zero books for the Finishing The Series Challenge, making my yearly total so far one.
I read three book for the Netgalley & Edelweiss Challenge, making my yearly total so far twenty two.

Made Into A Movie: Lolita; Vladimir Nabokov
Middle Grade: The Dreadful Tale Of Prosper Redding; Alexandra Bracken
One Word Title: Folk; Zoe Gilbert
Fire In Title Or Cover: As Kingfishers Catch Fire; Gerard Manley Hopkins
Set In A School: Solitaire; Alice Oseman
Black Cover: The Hatch; Joe Fletcher
Space Or Stars: Starfighter [Ch. 1]; Hamlet Machine
Fall Release: A Sudden Light; Garth Stein
Freebie: --
Dual POV: Steve & Mark; Tab Kimpton
Scares You: The Twisted Tree; Rachel Burge
Less Than 300 Pages: Teahouse [Ch.1]; Emirain
Features Animals: Into The Jungle; Katherine Rundell
LGBT+: Heartstopper [Vol. 1]; Alice Oseman