I'm pretty proud of how many books I managed this month, considering as well that I went on a two week holiday and didn't necessarily have a whole lot of time for reading (especially when I went to Paris). In the end though, I got through 5 of my 7 chosen reads and have started number 6, so I think I made pretty good progress. Hooray!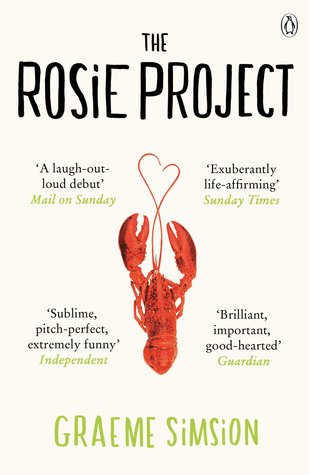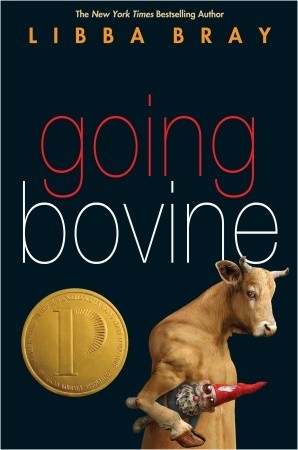 'The Rosie Project'; Graeme Simsion. I borrowed this book from my Mum, having heard only good things about it. Despite the fact that fluffy romance is not normally my thing, this one was eye-opening and hilarious. The characters were likeable and the plot felt really well-written. It felt like a fresh perspective on Mental Illness as well as a light-hearted, fun read that was perfect for my holiday. Despite the slightly rushed ending, I couldn't not give this book fantastic marks. 5/5 Stars.
'Going Bovine'; Libba Bray.I was given this book quite a while back for my birthday by a friend, and attempted to read it straight away but didn't get into it. I thought it was about time I tried again and felt that I could appreciate it's message a lot more than I could then. There was a whole lot of symbolism and reading between the lines and I enjoy these kinds of reads. However, I honestly felt like I was on drugs while reading it to, and the complete craziness confused me a bit from time to time. Not to mention that the characters were completely unsympathetic. 1.5/5 Stars.
'Midnight Crossroad'; Charlaine Harris. There really wasn't a huge amount about this book that I enjoyed other than the mystery element to it that is introduced far too late into the book. The characters were not in the least bit likeable and spent far too much time living their lives and spying on their neighbours to do anything of real importance. The writing was very wordy too and took a long time to get to the point, and I really didn't understand the need to focus so much on the physical attributes of every woman in town. Not only that, but the conclusion to the mystery felt random and had no build to it, and I completely did not agree with their method of dealing with the problem either. 1/5 Stars.
'Between The Lives'; Jessica Shirvington. This book had such an interesting plot concept and I'm pleased to report that it completely exceeded my expectations. Firstly, the characters were really likeable and I became a big fan of Ethan and Sabine's relationship. The differences between Sabine's two lives made for a very interesting plot-line and I became totally invested in what would happen next. Also, this is the first book ending to make me cry in quite a long time. 4.5/5 Stars.
'Good Kings, Bad Kings'; Susan Nussbaum. This book blew me away on so many different levels. The characterisation was the best I have read in a while, and I loved reading from so many different insights. It had a tremendous level of detail about the lives of both disabled children and the staff working at the nursing home, and my thinking is this is because Nussbaum has so much personal experience to draw from. At times I laughed out loud, and at others the story broke my heart. There wasn't a huge amount of plot in this one, but everything else more than made up for it. 4.5/5 Stars.
- 'Good Kings, Bad Kings'
And here is my Bookish Bingo update!
Murder Mystery: Child 44; Tom Rob Smith.
Forgotten Fridays Pick: Going Bovine; Libba Bray.
Aussie Author: The Rosie Project; Graeme Simsion.
April, May, June Release: Fractured Dream; K.M. Randall.
Rain Or Storm In Title: A Storm Of Swords: Blood & Gold; George R.R. Martin.
Parental Relationships: The Winner's Curse; Marie Rutkoski.
Freebie: Midnight Crossroad; Charlaine Harris.
Thieves, Assassins, Pirates: Moonlands; Steven Savile.
Parallel Universes: Between The Lives; Jessica Shirvington.
#WeNeedDiverseBooks: Good Kings, Bad Kings; Susan Nussbaum.