Okay! So I read this book while I was away on holiday, and managed to finish it on May 6th. I borrowed it from my Mum and was hoping to read it last month but didn't quite get round to it. However, it turned out to be the perfect holiday read! It doesn't fit into either of my challenges, but I look forward to reviewing this fantastic read.
SOURCE: Borrowed
TYPE: Paperback
TITLE: The Rosie Project
AUTHOR: Graeme Simsion
SERIES: Don Tillman (#1)
PUBLISHER: Penguin
PAGES: 327
GENRE: Romance, Contemporary, Humour, Adult
RATING: 5/5 Stars
Blurb: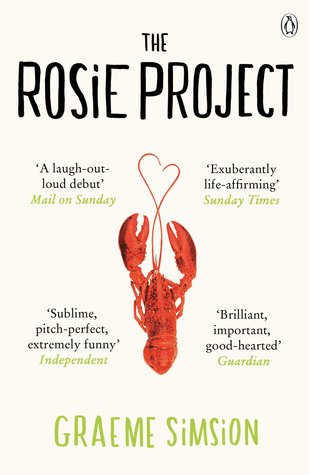 Don Tillman, professor of genetics, has never been on a second date. He is a man who can count all his friends on the fingers of one hand, whose lifelong difficulty with social rituals has convinced him that he is simply not wired for romance. So when an acquaintance informs him that he would make a "wonderful" husband, his first reaction is shock. Yet he must concede to the statistical probability that there is someone for everyone, and he embarks upon The Wife Project. In the orderly, evidence-based manner with which he approaches all things, Don sets out to find the perfect partner. She will be punctual and logical—most definitely not a barmaid, a smoker, a drinker, or a late-arriver.
Yet Rosie Jarman is all these things. She is also beguiling, fiery, intelligent—and on a quest of her own. She is looking for her biological father, a search that a certain DNA expert might be able to help her with. Don's Wife Project takes a back burner to the Father Project and an unlikely relationship blooms, forcing the scientifically minded geneticist to confront the spontaneous whirlwind that is Rosie—and the realization that love is not always what looks good on paper.
What I Liked:
This book was a real eye-opener. Simsion did the most fantastic job of giving me a completely fresh perspective on Asperger's Syndrome (and indeed, Mental Illness as a whole), and it was one of the many reasons that I adored this wonderful book. Don's perspective felt so interesting and well-informed, yet not at all tragic or tear-jerking. In fact, I found it was highly comedic and light-hearted and fun to read. I praise Simsion for his uniquely humorous approach to such a taboo subject which is often treated so seriously. He handled it so well!

The characters were fantastic. Firstly, I completely fell in love with Don and his quirky personality. He was a riveting narrator, who preferred to analyze situations in a logical manner rather than an emotional one, but there were a lot of things he said that made total sense to me, and I found him both hilarious and clever in his thinking. Rosie too was a rounded, well-written character and I'm so glad that Simsion didn't make her a character solely there to 'fix' Don. Instead, she had problems and issues of her own, and I felt like both characters were entirely human in their mistakes and flaws.

The plot, on another note, was really good. Besides the romance, Simsion introduced an element of mystery that kept me on my toes and I did not want to put this book down for a second, it was that engaging.
What I Disliked:
If I were to fault anything about this book it would be the pacing of the end chapters. It felt like they picked up speed significantly in their progression of events and forced the 'happy ending' vibe a little too much. After all, there is a sequel, so it could have been slowed down a lot. Up until that point, Rosie and Don's relationship had been really well paced, but those final pages just sped things up too much for me.
Overall Conclusion:
There were so many points to this book that I loved and I genuinely am so glad I read it, despite my reservations about whether it was my kind of book. The context within the book was well-researched, the tone light and heart-warming, the characters likeable and funny, and the plot completely gripping. I would recommend it to everyone, even those that don't normally enjoy solid romance, as there is an extra dimension in this one. At times the writing felt a little simplistic, but I am completely willing to overlook that in exchange for all of this book's pros.