Well I set myself a smaller goal this month, and will do so next month too as the wedding is really taking up most of my time now. Of the six reads I set myself, I actually managed three though which I'm pretty proud of!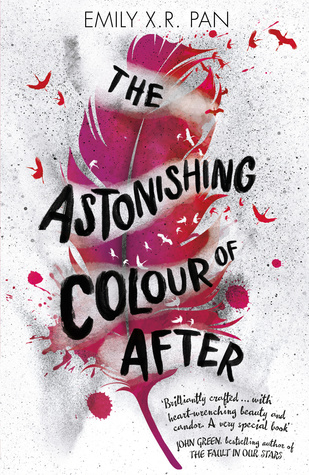 'The Yellow Wall-Paper' by Charlotte Perkins Gilman. It really took me by surprise how much I enjoyed this feminist classic set of short stories. There were three in this 'little black classic' and each was very different but cleverly written with a great plot. I thoroughly recommend to anyone who hasn't stumbled across Perkins Gilman yet! 5/5 Stars.
'The Astonishing Colour Of After' by Emily X.R. Pan. This is a book I had really looked forward to reading, and the writing was as beautiful as I'd heard it was. I liked the plot, the huge exposure to the culture of Taiwan and the magical realism. I think the characters could have used some work, especially MC Leigh, but I'm impressed that this is Pan's debut. 4/5 Stars.
'The Valley Of Fear' by Arthur Conan Doyle. It has definitely been a while since I read a Sherlock Holmes book and I liked dipping into this one. It had a great mystery to solve, an interesting backstory and, as usual, fantastic banter between Holmes and Watson. I wish that Moriarty had been a little more involved and the ending hadn't been so abrupt though. 4/5 Stars.
- The Astonishing Colour Of After
- The Astonishing Colour Of After
*Mini Challenge: (East Asian/Southeast Asian/Pacific Islander
)*
Warm Climate: And The Mountains Echoed; Khaled Hosseini
Stand-Alone: The Astonishing Colour Of After; Emily X.R. Pan
Large Cast Of Characters: Crooked Kingdom; Leigh Bardugo
Spring Release: The Life-Changing Magic Of Tidying; Marie Kondo
Three Word Title: Fierce Fragile Hearts; Sara Barnard
Freebie: -
Novella: The Mirror & The Maze; Renée Ahdieh
Epistolary: The Yellow Wall-Paper; Charlotte Perkins Gilman
Yellow Cover: Rubyfruit Jungle; Rita Mae Brown
A Book I Own: Everless; Sara Holland
School Setting: Myth To The Night; Cora Choi
Mystery Thriller: The Valley Of Fear; Arthur Conan Doyle