I can't believe that we are already halfway through the year, it's gone so quickly! Luckily, to celebrate, I've had myself a fantastic reading month. I've read so many good books! These are always my favourite kinds of months, as they make me feel so productive! I'm quite pleased too, as right at the last minute I managed to pull off a few good reads in a short space of time. This meant I read 6 of my 7 planned reads this month!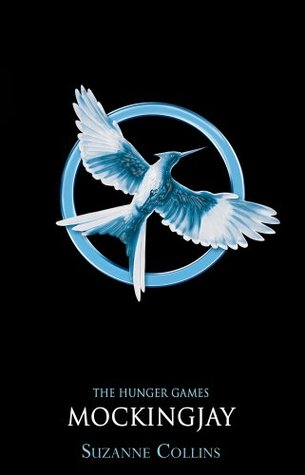 'Skin'; Ilka Tampke. I was actually invited to read this one by Hodder & Stoughton via Netgalley in exchange for an honest review. I was also invited to the Publishing Party for it, so I'm really glad that I enjoyed it! Historical Fiction is a genre I really love, and I didn't realise that Celtic Britain would prove to be an area of History that I would fall in love with. There was a huge amount of fantastic world-building in this one, as well as a likeable heroine and an intriguing plot. 4/5 Stars.
'The Sleeper & The Spindle'; Neil Gaiman. I couldn't believe how quickly I got through this one, it was a mere 70 pages long and comprised of a fair few illustrations. Needless to say, the artwork was gorgeous and I can forgive it's short length because Fairy Tales are seldom long. The tale itself was slightly macabre and chilling at times, with huge doses of female empowerment to keep me happy! 4/5 Stars.
'Mockingjay'; Suzanne Collins. Finally! I've waited far too many months to read the final instalment of this series, but I got to it at last. Despite a pretty slow start which involved a lot of reflection and bitterness on Katniss' part, the second half of the book was too good to ignore. It was action-packed, horrifying at times, and completely broke my heart. In the end, it was enough to push my rating up. 4/5 Stars.
'A Natural History Of Dragons'; Marie Brennan. I finished this book on the Sunday just gone, and have to say that I knew it would get a high rating from the beginning. I adored the heroine, Isabella (she is in fact the strongest female lead I have read about this year) because of her passion, ferocity and wonderful sense of humour. Her relationship with Jacob was a joy to read, and learning all about Dragons somehow gave this book an extra edge above other fantasies. 5/5 Stars.
'The Storied Life Of A.J. Fikry'; Gabrielle Zevin. This was definitely my favourite read this month, if not of the year so far. It felt very original, contained a colourful cast of wonderful characters and had a fascinating plot that contained many expletive-inducing twists, had me doubled over laughing, and made me cry too many tears to count. You have to read it to understand what I'm talking about! 5/5 Stars.
'How To Fly With Broken Wings'; Jane Elson. This was a rather disappointing end to a very productive reading month, especially as the blurb had looked so promising and the cover so beautiful. In the end, there wasn't a whole lot of character development or plot pacing, and the writing style was a big turn-off. It did have a lovely message with a few heart-warming moments though. 1/5 Stars.
This month I have read two physical reads:
- 'A Natural History Of Dragons'
- 'The Storied Life Of A.J. Fikry'
- 'How To Fly With Broken Wings'
I am now halfway through the year too, so I probably ought to update you on the rest of my challenges! Here goes!
I managed to gain another 14 points for the Prequel/Sequel challenge, bringing my total to 32 points:
- 'A Storm Of Swords: Blood & Gold' +2 (April)
- 'Mockingjay' +12 (June)
I read three more entries for the Book To Movie Challenge, bringing my total to six:
- 'A Storm Of Swords: Blood & Gold' (April)
- 'Child 44' (April)
- 'Mockingjay' (June)
And here is my updated Bookish Bingo card!
Murder Mystery: Child 44; Tom Rob Smith. REVIEW.
Forgotten Fridays Pick: Going Bovine; Libba Bray. REVIEW.
Aussie Author: The Rosie Project; Graeme Simsion. REVIEW.
Yellow Cover: The Storied Life Of A.J. Fikry; Gabrielle Zevin. REVIEW.
Parallel Universes: Between The Lives; Jessica Shirvington. REVIEW.
#WeNeedDiverseBooks: Good Kings, Bad Kings; Susan Nussbaum. REVIEW.
Illustrated Cover: The Sleeper & The Spindle; Neil Gaiman. REVIEW.
Part Of A Trilogy: Mockingjay; Suzanne Collins. REVIEW.
Nonfiction Or Memoir: A Natural History Of Dragons; Marie Brennan. REVIEW.
Historical: Skin; Ilka Tampke. REVIEW.