It's been quite a while since I read 'Radio Silence', my first Alice Oseman read which I adored. I heard recently that she had created a M/M web-comic, 'Heartstopper' and wanted so badly to read it! It's based around two characters from 'Solitaire' though, which I needed to read first...
SOURCE: Bought
TYPE: Paperback
TITLE: Solitaire
AUTHOR: Alice Oseman
SERIES:
--
PUBLISHER: Harper Collins Children's Books
PAGES: 392
GENRE: Young Adult, Contemporary, Romance, Mystery
RATING: 3.5/5 Stars
Blurb: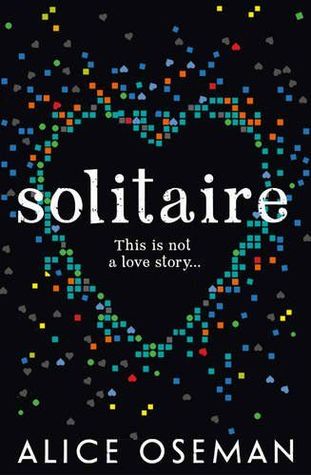 In case you're wondering, this is not a love story.
My name is Tori Spring. I like to sleep and I like to blog. Last year – before all that stuff with Charlie and before I had to face the harsh realities of A-Levels and university applications and the fact that one day I really will have to start talking to people – I had friends. Things were very different, I guess, but that's all over now.
Now there's Solitaire. And Michael Holden.
I don't know what Solitaire are trying to do, and I don't care about Michael Holden.
I really don't.
What I Liked:
I actually found that I was pretty gripped by this book, especially as I got further into it. I read it while I was on holiday, and in the latter half I didn't want to put it down! It's difficult to feel that with a book, especially if you initially had reservations. I really liked that about it, and the fact that there were a few different plot elements definitely helped.

I think the thing I liked most about it was the fact that I could relate to the setting so well! Like Oseman, I attended a British Grammar school in Kent and mine was an all-girls too! I could envisage everything so exactly as it basically described my school life.
What I Disliked:
My main issue was that I really didn't like Tori Spring, the MC, all that much! I found her cynical, bitchy, rude and a fairly immature representation of depression. I really advocate for depictions of mental health issues in books but only when done right. This just felt like severe teenage angst.

The plot, especially in the first half, really didn't seem to be going anywhere. I figured out who Solitaire was pretty quickly and didn't care about any of the character's dramas (though I did like Michael a lot, and will forever ship Nick and Charlie). Like I said, it picked up in the middle of the book but the ending also fell a bit flat because it seemed so climactic it was a little on the ridiculous side.
Overall Conclusion:
So, this might have been Oseman's debut, but I certainly liked 'Radio Silence' a lot more. Not only that, but I felt that the writing here was a little immature in comparison, which I suppose is to be expected considering how young Oseman was when this was published. I wish I'd liked Tori more and though I liked the LGBT+ representation, the mental health issues portrayed in this book felt a little...off. I definitely found the setting relatable though, and was totally hooked by the middle part of the book, so I'll give it points for that! I'm still really looking forward to reading 'Heartstopper'!