I have been looking forward to reading this for so long and especially after reading 'Solitaire', because even though I had issues with that book, I LOVED Nick & Charlie and was so ready to hop aboard that ship with everything I had.
SOURCE: Internet
TYPE: Web Comic
TITLE: Heartstopper
AUTHOR: Alice Oseman
SERIES:
Heartstopper (Vol. #1)
PUBLISHER: --
PAGES: 288
GENRE: LGBT+, Graphic Novel, Web Comic, Contemporary
RATING: 5/5 Stars
Blurb: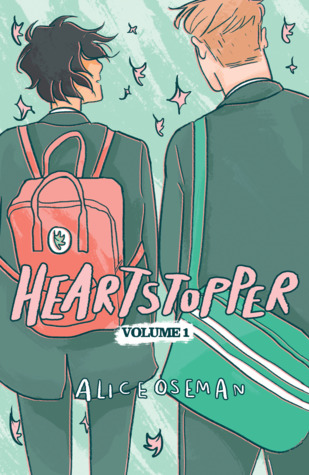 Charlie Spring is in Year 10 at Truham Grammar School for Boys. The past year hasn't been too great, but at least he's not being bullied anymore, and he's sort of got a boyfriend, even if he's kind of mean and only wants to meet up in secret.
Nick Nelson is in Year 11 and on the school rugby team. He's heard a little about Charlie - the kid who was outed last year and bullied for a few months - but he's never had the opportunity to talk to him. That is, until the start of January, in which Nick and Charlie are placed in the same form group and made to sit together.
They quickly become friends, and soon Charlie is falling hard for Nick, even though he doesn't think he has a chance. But love works in surprising ways, and sometimes good things are waiting just around the corner...
What I Liked:
These boys have destroyed my soul. In a good way. I honestly adore the ship above everything else, and trust me when I say it takes a lot to get me invested in a romance! Nick & Charlie's relationship is 100% pure fluff, so those that like a bit of sexual tension may be left wanting, but I really loved them this way. I also really liked watching their friendship develop so naturally!

Finally, a setting I can relate to! Honestly, watching these boys interact in their school brought back so much nostalgia from my own Grammar school experiences and the whole British girls and boys separate schools thing was my entire teenage life. It's interesting to realise how little this exists in literature, as most contemporary YA is set in an American high school!

Let's talk about representation for a minute - THANK YOU ALICE OSEMAN! This is how you do it! As well as watching Nick struggle to come to terms with his bisexuality and justify his relationships (bi-erasure is really a thing guys, I live it everyday), and watching Charlie relive his own struggles with coming out in an all-boys school, I just loved the general diversity of the characters. I'm looking forward to hopefully meeting more in future chapters!
What I Dislike:
Uhhhh...I didn't really dislike anything? Other than the fact that it's an ongoing comic so when I catch up (and I will) I'll have to wait for new pages? But seriously, this was great and made the things that I didn't like about 'Solitaire' likeable again!
Overall Conclusion:
This is my favourite m/m comic, alongside 'Long Exposure' by Kim 'Mars' Hayward, and I think it must be the school setting that I'm really digging? But I love everything about this - it's a slow burn but moving quickly enough so that I don't lose interest. I'm looking forward to watching this relationship blossom into something beautiful and also to see how Oseman handles everything that I know is coming for Charlie (I'm actually really terrified about it). I hope it continues to be everything I've ever needed in an LGBT+ comic!