I've taken a far more relaxed approach to the Top Ten Tuesday lists this year, it's true, but I couldn't miss this one! I love picking TBRs, especially when they are seasonal! Winter is a gorgeous time of the year of course, even if I'm not a fan of the cold. It gives me a chance to light a ton of candles, make multiple mugs of tea and hot chocolate and snuggle up in a hundred blankets with a good book! My winter reads are normally very fantastical, and related in some way to snow, ice and all manner of things usually found in the winter months. I also like to read very deep, reflective books and very long reads or very short stories really suit me depending on my mood!
1) 'Renegades' by Marissa Meyer.
Well, I had really hoped to get to this read in November, but it is looking more and more like that won't be possible. It's pretty big and there aren't many days of November left! That being said, I'm far too excited to let a new release by one of my favourite authors leave my TBR quietly! Superheroes might not be the most wintery topic, but I want to read this book ASAP!
2) 'Wintersong' by S. Jae-Jones.
I think it's pretty clear why this one appears on the list! Look at that cover and title! But aside from that, reading 'The Goblins Of Bellwater' has really put me in the mood for more books featuring goblins, and what better book than this? Some people have compared it to Labyrinth, a film that I personally love but I'm glad to hear that there are differences too!
3) 'Matilda' by Mary Shelley.
A shorter book written by the author of the classic, 'Frankenstein', this looks to be a more sombre, haunting read. It does, after all, cover the topic of abuse. However, I'm looking forward to it as the winter months seem like a good time for this kind of book! Also, I've never read anything by this very famous author and I'd really like to!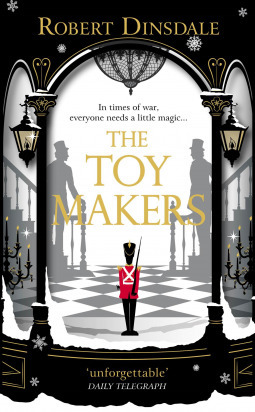 4) 'The Toymakers' by Robert Dinsdale.
If that cover doesn't scream Christmas to you, then what does? You know, one of the classic, Victorian variety? I've heard of Robert Dinsdale before. In fact, I have his book 'Gingerbread' (a retelling of Hansel & Gretel) firmly on my TBR! It gives me hope that his work has appealed to me in the past, and I'm glad to have nabbed a copy of this novel to get stuck into!
5) 'The Ice' by Laline Paull.
A book themed around ice? Perfect. I've read Paull's 'The Bees' many months ago and I really enjoyed it a lot! 'The Ice' is obviously looking very different story-line wise, but I'm interested to see how her writing has developed. The book has an interesting synopsis for sure, and I'm certain it will be a good match.
6) 'Sea Spell' by Jennifer Donnelly.
It's been a fun ride, reading Donnelly's 'Waterfire Saga'. The first three books started good and became better and better as time went on, I really enjoyed them. Going by the front cover, and seeing as Astrid is my favourite of our heroines, I'm very excited at the prospect of this conclusion. I hope that Donnelly draws everything together well!
7) 'Wolf Winter' by Cecilia Ekbäck.
Another gorgeous cover and perfect premise for the cold, winter nights. I've been saving this one just for the right time of year. The blurb promises that readers of 'Burial Rites' will enjoy this, and I'm a big fan of historical fiction generally so I have high hopes! Books like this make me really excited for the winter!
8) 'Six Of Crows' by Leigh Bardugo.
This is another book pulled straight from my November reads to December, as I want to get into it before the year is out! I've waited far too long to read this book already! Bardugo writes really well, I enjoyed her 'Grisha Verse' series. I like that this is set in the same world but, as far as I can tell, contains a much more diverse range of characters of a roguish nature!
9) 'Midnight At The Bright Ideas Bookstore' by Matthew Sullivan.
I love book shops in the winter, don't you? It makes everything seem so festive! So a book set in a book shop would be awesome! It's a mystery, certainly one that sounds very intriguing and a little different! I'm excited to see what happens and (fingers crossed) be thoroughly captivated.
10) 'The Hunter's Kind' by Rebecca Levene.
This is another series that I have left alone for far too long. I read 'Smiler's Fair' an absolute age ago and haven't touched it's sequel despite my enjoyment of book one. It's a common, terrible habit of mine that I'm trying to break. Hopefully book two will develop everyone's stories nicely!