It's been a very busy couple of weeks off, but I'm back! I thought it would be better to do a big summary of the whole two weeks I've been off, and it makes it easier for me too in terms of organisation. So, without further ado, let me tell you all about my time off of work! On Monday 23rd, Mat and I went back to Ashford to meet up with some of Mat's family. We spent the day bowling and having a fun time out for dinner, which was a lot of fun! On Wednesday 25th, Mat and I decided to head off to the cinema to go and watch the newest X-Men film: 'X-Men Apocalypse'! Everyone knows that the continuity in those films is not fantastic, but it was still a very enjoyable watch and I'm glad we went.
The next day, we headed off in the afternoon to the Premier Inn by Gatwick Airport, ready for our holiday! It was a lovely short stay, and we headed to Giraffe for dinner that evening before an early night ready for or 3AM start the next morning. Getting up was actually no where near as difficult as I thought and the airport wait wasn't too bad, though our flight was delayed. We ended up reaching our hotel in Italy early afternoon, giving us the rest of the day to explore and get our bearings. First impressions of Sorrento were lovely, and the views were beautiful! I'm honestly so glad we picked this as our place to stay, it's definitely the most interesting and lively accommodation area we've had.
On Saturday, our first full day, Mat and I took the plunge and made our way to Naples on the train. So many people have told me what a lovely city Naples is, and I really liked it! Especially the older areas (the new being like a very hot London). There were so many pretty little shops to visit and narrow streets to work our way round. We had pizza, which was delicious (pizza from Naples is famed for being the best) and spent a lot of time pottering around, though the bulk of our time was spent underground. Napoli Sotterranea is a 10 Euro underground tour of a very old Aqueduct (dating back to the Roman era) that came well recommended and it was easy to see why! The tunnels were narrow and dark, but the tour was so interesting and we loved it! I advise anyone touring Naples to make time for this cheap two hour tour that even includes an interesting walk around a very old Theatre.
Sunday was our most relaxing day in that we spent it all in Sorrento! In the morning, we went on a tour with our holiday reps around the town and learnt a lot about it's history, as well as seeing some amazing views and eating/drinking plenty of free samples! It was certainly a lot of fun learning about the local culture and proved to be a very relaxing trip. Later in the evening, Mat and I went on our own little walk down to the local fishing port and found it a very interesting, refreshing jaunt which allowed us to watch the sun setting. Bliss!
Monday marked the first of many excursions for Mat and I, and our chosen destination was the small island of Capri! There wasn't a whole lot to do on the Island itself but it was certainly spectacular in it's beauty and views. To start with, we visited the town of Anacapri, at the top of the Island. It contained a lot of very nice shops and stalls to look at and I bought a bar of Lemon flavoured chocolate, which is delicious! There was a lift up to the highest point of the Island for a great view, but Mat and I opted to pay 1 Euro to visit some small, pretty gardens instead. Then, in the lower area of Capri, we boarded a boat and made a trip around the whole Island where we saw a great deal of sights including the famous Faraglioni rocks, before some free time by the port and then back to the hotel!
Tuesday was probably our favourite day as it contained the excursion we'd been most looking forward to: Vesuvius and Pompeii! We went to the volcano first (there was a rather large group of us) and though the climb to the very top was very steep and tiring, I'm glad we did it. The crater is truly something to behold, and it's scary to thing that under all the rocks and ash, there's a whole lot of lava just waiting to explode. We could even see the steam to prove it! Pompeii, the town that was famed for being destroyed by Vesuvius in 79AD, was equally as stunning to behold in how well preserved it was. Viewing the Roman city as if it had only been inhabited yesterday was both fascinating and more than a little creepy. An amazing chunk of history that I'm so glad I finally got to see.
Wednesday was the day for a drive around the Amalfi coast, which was exactly what we did. It rained a little, but of course it was still hot, and we visited three beautiful towns on our trip round: Positano, Amalfi and Ravello. At Amalfi, we also boarded a boat for a tour of the coast which I really enjoyed, and provided a much needed break from the coach. This trip was mostly spent driving around and enjoying free time in each time, but it was still very enjoyable, with some pretty views and memorable moments.
Thursday was our last trip before returning home but while we were mostly left to our own devices, I loved it. We went to Ischia, another small Island about an hour away from Sorrento by boat (the journey on which was nothing short of horrendous) which is home to a famous Thermal Spa and the Mortella Gardens. We went to these gardens for a few hours and they were nothing short of stunning. So many gorgeous plants, fountains, ponds and statues and I couldn't believe just how big and beautiful the whole garden actually was! I also had a lovely afternoon cup of tea to round the whole trip off as something really special.
Sadly, Friday was another day of travelling. We left Sorrento early in the morning and arrived home mid-afternoon with a lot of unpacking and other bits and bobs to do. I was glad that I had booked off the entire week off so didn't have to go back to work the very next day because I was so tired. Not only that, but Saturday was actually a very special day in itself, because my sister came to visit us with her boyfriend! We all spent the day first at Sweet, the nearby dessert cafe, and then at London Zoo which was a whole lot of fun! I'm a big fan of animals, and I have to say the 'In With The Lemurs' exhibition was the highlight for me!
And there ends my rather exciting two weeks! I've had a fabulous break, but I ave missed blogging a lot (and reading of course) so can't wait to really get stuck into June!
I Read:
I Received: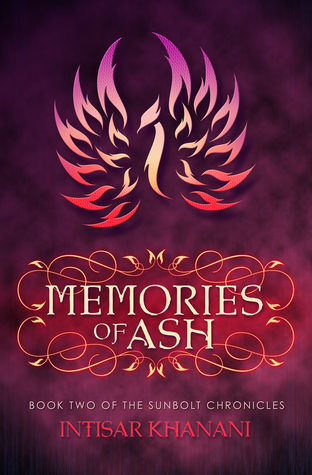 - 'The Inquisition' by Taran Matharu: Approved by Netgalley (24/05)
- 'The Bone Sparrow' by Zana Fraillon: Approved by Netgalley (24/05)
- 'The Muse' by Jessie Burton: Approved by Edelweiss (25/05)
- 'Crow Moon' by Anna McKerrow: Bought on Amazon (25/05)
- 'Memories Of Ash' by Intisar Khanani: Pre-Ordered on Amazon (31/05)
- 'Notes On Being Teenage' by Rosalind Jana: Approved by Netgalley (05/06)
Memes:
Top Ten Tuesday:
Books I Feel Differently About After Reading Their Sequels
I Posted:
May Wrap-Up
Planned Reads For June