So I didn't manage two of last month's reads, and while I'm all set to read 'Salt To The Sea' this month, I'm having trouble tracking down my copy of 'I Am Malala'. While I get that sorted, I won't be putting it on the list for this month, but I've picked some great reads instead!
'Salt To The Sea'; Ruta Sepetys. As I said, this one was next on the list and the first book I pan to get through in June! I'm really excited about this read and have heard a lot of good things about it, so I look forward to hopefully another great read! It looks like it's going to be an emotional read so I'd best have some tissues ready.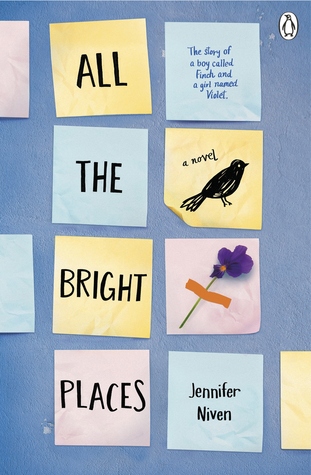 'Crow Moon'; Anna McKerrow. I've seen this book recommended by quite a few different Bloggers, but it was Lucy Powrie's (Queen Of Contemporary) review that really piqued my interest. I received an ARC for book two from Netgalley too, so I'd really like to get stuck into this series and I hope to enjoy it just as much as everyone else!
'The Girl On The Train'; Paula Hawkins. Yet another book that I see everywhere, but this will be an interesting read for me as it's not my usual read. This definitely has the makings of a great psychological thriller, with a creepy tag-line and blurb. I'm not sure how I feel about the idea of an alcoholic narrator, but I'll see how I get on!
'Notes On Being Teenage'; Rosalind Jana. I'm not going to pretend to know much about Miss Jana herself, because I don't. However, with interviews with UKYA authors such as Juno Dawson and Louise O'Neill included, how could I refuse? This covers a ton of topics that explore what being a teenager is about, and though those years are long(ish) behind me, it will be interesting to reflect.
'Thin Air'; Michelle Paver. As soon as Netgalley approved this for me, I was so excited! I'm a fan of ghost stories and haven't read one in so long. I want something to really scare me. Something that I can read late into the night and will creep me out so much that I'll jump three feet into the air every time a dog barks or floorboard creaks. Man, have I been craving a ghost story!
'All The Bright Places'; Jennifer Niven. This coupled with my first read means I'm probably going to have a tear-filled month this month! My two flat-mates read this last month and begged me to get onto it as soon as possible. It's been sitting on my shelf for a long time so I've clearly been putting of the inevitable destruction of my soul for a while. Time to get it over with and immerse myself in the feels!
'The Jungle Book'; Rudyard Kipling. I've been wanting to read a classic for a while now, and after seeing this at the cinema recently I've been desperate to read the original. I love these characters and I really think that I'll enjoy them best in their written form! While I know they won't be bursting into song like they do in the two Disney on-screen adaptations, I'm still excited to see the similarities (and differences) between the animals in the book and their on-screen counterparts!