I'm so glad that I didn't abandon this read in something for something more November-y because boy, it was a good one! I've read one book by Frances Hardinge before, 'Cuckoo Song', and enjoyed it immensely. I went into this with pretty high expectations and still had them blown out of the water. In fact, the thought of reading more of this book actually put a smile on my face.
SOURCE: Bought
TYPE: Paperback
TITLE: The Lie Tree
AUTHOR: Frances Hardinge
SERIES: --
PUBLISHER: Macmillan Children's Books
PAGES: 410
GENRE: Young Adult, Fantasy, Historical Fiction, Mystery
RATING: 4.5/5 Stars
Blurb: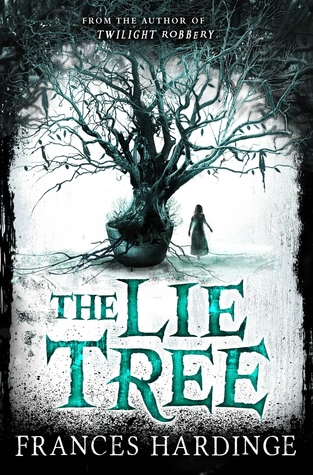 It was not enough. All knowledge- any knowledge - called to Faith, and there was a delicious, poisonous pleasure in stealing it unseen.
Faith has a thirst for science and secrets that the rigid confines of her class cannot suppress. And so it is that she discovers her disgraced father's journals, filled with the scribbled notes and theories of a man driven close to madness. Tales of a strange tree which, when told a lie, will uncover a truth: the greater the lie, the greater the truth revealed to the liar. Faith's search for the tree leads her into great danger - for where lies seduce, truths shatter...
What I Liked:
Hardinge's most impressive skill is definitely her world-building. She always just seems to get it right, no matter what era she chooses to write about, and this time she chose my favourite: the Victorian era. Specifically, the point that Darwin's 'On The Origin Of Species' had been released and challenging the ongoing superstition and blind religious faith with science and reasoning. It was interesting to see women in this book because the limitations of their gender did not stop them from being strong in any way. Mix that with a bit of magic and you have the perfect book recipe!
Characters were a huge deal for me, especially when it came to family dynamics and the feminist values that peeked through the story-line. I liked Faith, she was a flawed but likeable heroine, and so clever. Myrtle too was interesting and proof that appearances can be deceiving. Even the clearly misogynist men grew on me to an extent largely because there ignorance was actually treated with humour rather than seriously.
What I Disliked:
While I will always applaud Hardinge's superb writing skills and ability to make things interesting, the pace still felt a little off (like in 'Cuckoo Song'). In some ways the slow-build up worked, but at other points, especially around the beginning, I mostly wanted Hardinge to get to the point. Once she did, it was excellent and the ending was handled in just the right way, so this is really a pretty minor flaw.
Overall Conclusion:
I loved that not only was this a good story that could be read by people of all ages, but also an analysis of human behaviour and the powers that both truths and lies hold over our relationships and lives. I loved the ongoing sense of struggle: evolution vs. creation, science vs. magic, superstition vs. sense and even women vs. oppression. It created a very tense atmosphere that gripped me and wouldn't let me go. Hardinge has really got the whole story-telling thing down and the Costa 2015 Book Of The Year award is well deserved!