Yay, picking books for my upcoming TBR is my favourite thing to do! Autumn is a great month for reading, it makes me thing of 'back to school', classics, orange book covers and of course Halloween! It's the perfect time for ghost stories!
1) 'The Return Of Sherlock Holmes' by
Arthur Conan Doyle.
So I'm kind of in the process of reading these short stories now, and I'm thoroughly enjoying them so far! The cover of this collection is very autumnal and there's something about cosying up in a blanket while reading a good mystery that is very appealing at this time of year!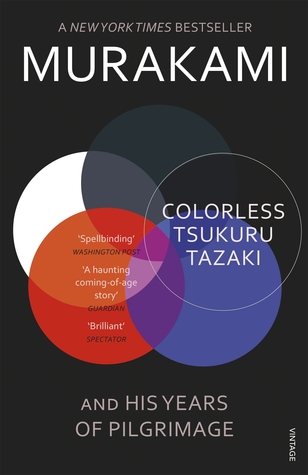 2) 'Colourless Tsukuru Tazaki & His Years Of Pilgrimage by Haruki Murakami.
I have never read a book by Murakami and I wanted to read something a little more 'intelligent'. His work has been recommended to me by a lot of people so it's exciting to be able to try it out, and also this is one of his shorter works so a good place to start.
3) 'The Goblins Of Bellwater' by Molly Ringle.
When I red it at school, I liked Christina Rossetti's poem 'Goblin Market' a lot. This is a retelling of that poem and while Fantasy is normally very 'Spring' for me, this feels a little different. I'm expecting it to be a bit eerie which is the best kind of book for this time of year.
4) 'The Elite' by Kiera Cass.
Just look at that bright orange/red cover! What other month could I possibly read this? I'm behind the world in this series because pretty much everyone else has finished it, but while I had some problems with book one, I liked the competition concept and am determined to find out what happens!
5) 'Lies We Tell Ourselves' by Robin Talley.
The last book I read by Robin Talley was a retelling of Macbeth and I loved it. It was a great read for Autumn! The cover for this also kind of gives me those vibes - lots of yellow, orange and black. While I expect it to not be quite so paranormal, I am interested in the intersectionality of this book and the topics it covers.
6) 'The Woman In Black & Other Ghost Stories' by Susan Hill.
Like I said, Autumn is perfect for ghost stories! While I've already read 'The Woman In Black', I know that Susan Hill has written a ton of classic, spooky tales and I have been dying to get into them for a long time! Having this book could not be more exciting for me!
7) 'The Hawley Book Of The Dead' by Chrysler Szarlan.
Another book on the paranormal, but this time with the focus firmly on witches, a subject that has always fascinated me. I've had this on the Netgalley approval list for a long time and actually consider it a little shameful how long it has taken me to read it.
8) 'Six Of Crows' by Leigh Bardugo.
Oh boy! This book! I'm so excited just thinking about it, and I think that now I've read the entire 'Shadow & Bone' series, I'll appreciate it even more. Having loved a certain roguish prince/pirate in that series, I think the gang is really going to appeal to me!
9) 'The Wrath & The Dawn' by Renée Ahdieh.
Now a desert set fairy tale might not seem the most Autumnal thing ever, but I'm so excited about this book and I liked Ahdieh's writing in 'Flame In The Mist' a lot so I think I'll enjoy this. People have compared it (with mixed reactions) to 'A Thousand Nights' by E.K. Johnston which I loved, so fingers crossed!
10) 'Glimpse' by Kendra Leighton.
Another poem based book, this is a re-imagining of Alfred Noyes' 'The Highwayman' which I also studied and loved at school! It's also another book that has been on the Netgalley list for far too long and really needs to come off. Exciting!