This was a fantastic choice for my last February read, and I'm so glad I got round to this one and managed to get through it so quickly! Barnard is one of those authors whose books I automatically turn to, KNOWING it'll be good. I wasn't sure about the synopsis, but it surpassed my cautious expectations by miles!
SOURCE: ARC Sent By Publisher
TYPE: Paperback

TITLE: Goodbye, Perfect
AUTHOR: Sara Barnard
SERIES: --
PUBLISHER:
Macmillan Children's Books

PAGES: 320
GENRE: Young Adult, Contemporary

RATING: 5/5 Stars
Blurb: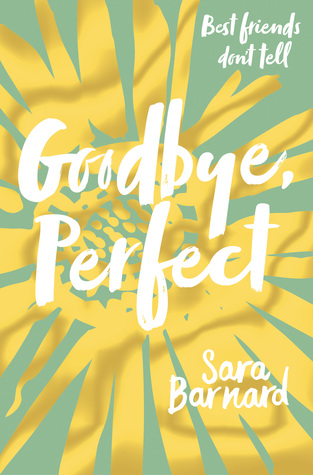 Eden McKinley knows she can't count on much in this world, but she can depend on Bonnie, her solid, steady, straight-A best friend. So it's a bit of a surprise when Bonnie runs away with the boyfriend Eden knows nothing about five days before the start of their GCSEs. Especially when the police arrive on her doorstep and Eden finds out that the boyfriend is actually their music teacher, Mr Cohn.
Sworn to secrecy and bound by loyalty, only Eden knows Bonnie's location, and that's the way it has to stay. There's no way she's betraying her best friend. Not even when she's faced with police questioning, suspicious parents and her own growing doubts.
As the days pass and things begin to unravel, Eden is forced to question everything she thought she knew about the world, her best friend and herself.
What I Liked:
The. Characters. Were. Amazing. Honestly, I loved Eden as an MC. She was a great representation of a teenager, a great mixture of naivety and 'growing up'. Her relationship with Connor was everything. It reminded me of my relationship with my fiancé, as we got together when we were teenagers. Also, a big shout out to the McKinleys. Best family ever! I loved that Barnard decided to make Eden and her sister adopted into the family, as I like to see diverse, interesting family situations in contemporary YA!

Barnard covered a lot of topics in this book, not just the touchy subject of a teacher-student relationship. Pressure on teenagers, exams and curriculum, responsibility, the power of journalism, underage sex, adoption & fostering, family relationships, young carers, WOW. So much stuff and it's truly what I love about Barnard's work. She is, and will forever be, on my MUST READ list.
What I Disliked:
I really can't think of anything. The plot does become a little stuck in one place after the initial revelation, until the final climax chapters. But I think that while it slowed the pace down, it meant that the issue was handled with care and looked at from all perspectives.
Overall Conclusion:
I mentioned that my expectations were a little cautious. I don't usually like the idea of reading about student-teacher relationships, it's a topic that makes me feel uncomfortable but I really felt that Barnard handled it perfectly. I was really hooked by the whole thing, especially the action-packed finale, and became so invested in the lives and relationships of every character. Seriously, I was so impressed and I'm so happy I got to read this book!