I was super stoked to receive this as a gift because I love reading Marissa Meyer's stuff and I am always looking for more from her The Lunar Chronicles series because I love it so much! This is a little different to her series because it's a graphic novel!
SOURCE: Gift
TYPE: Hardcover
TITLE: Wires & Nerve
AUTHOR: Marissa Meyer
SERIES: Wires & Nerve (#1)
PUBLISHER: Feiwel & Friends
PAGES: 238
GENRE: Graphic Novel, Fantasy, Sci-Fi, Young Adult
RATING: 3.5/5 Stars
Blurb: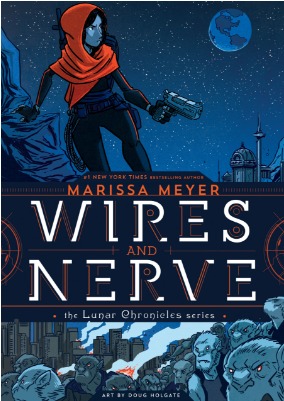 When rogue packs of wolf-hybrid soldiers threaten the tenuous peace alliance between Earth and Luna, Iko takes it upon herself to hunt down the soldiers' leader. She is soon working with a handsome royal guard who forces her to question everything she knows about love, loyalty, and her own humanity.
With appearances by Cinder and the rest of the Rampion crew, this is a must-have for fans of the series.
What I Liked:
Yay! All my favourite characters are back! I really liked how this book began, it gave a great sense of where we are after 'Winter' and what has been happening since Cinder became Queen! I love that it hasn't been smooth sailing too.

There's definitely some good set up in this book for an interesting plot, especially for Iko. She deserves to have something to herself, she was such a great character in the original series! I guess it's also nice to see the characters I know and love drawn out too!
What I Disliked:
I have to say that I really didn't feel the personalities that I fell for in the original series here. Especially when it came to my beloved Captain Thorne and Cress. I'd been looking forward to seeing them most of all but I was disappointed with what little I saw of them.
Overall Conclusion:
Don't get me wrong, I liked a lot of this and think it showed some great promise. The art style was nice too, though again not my favourite. I think most of the problems with this stemmed from the fact that it had a lot of info-dumping and exposition to get through. And it was mostly things that I already knew from the previous books! I think that Iko, and this series, has a ton of potential and I'm certainly invested. I'm expecting to love the next volume more.