Oh my goodness I could probably make a list of ten every week I have so many. It makes me very sad, but then also kind of excited because that means I have a ton of books to read! Yay!
#silverlinings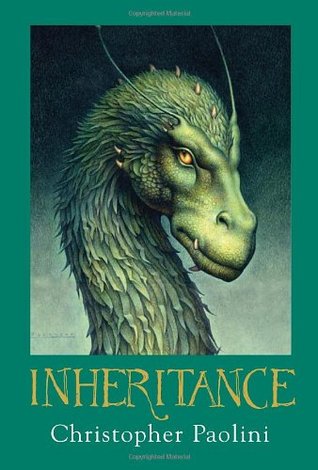 1) 'Temeraire' by Naomi Novik. I have a large number of Naomi Novik's books waiting to read, but I actually got this for free when I pre-ordered by copy of 'Inheritance' by Christopher Paolini, and like that book (more on that later), it stayed on the shelf. It looks really good though!
2) 'Inheritance' by Christopher Paolini. I'm actually so ashamed of this one. The problem is, it's been so long since I read the first three books that I'll need to at least read the synopsis for each one again before diving into this!
3) 'The Wise Man's Fear' by Patrick Rothfuss. A long time ago I read and adored 'The Name Of The Wind', then read it again after buying this so I'd be ready to read this book. But I never did and I'm definitely putting it off because of the same issue as Paolini's book!
4) 'Angela Carter's Book Of Fairy Tales' by Angela Carter. I think that I would really love Angela Carter's books if only I got round to reading them! I bought this ages ago in the hopes of this being the first one, but I still haven't managed it.
5) 'The Night Circus' by Erin Morgenstern. This book has a gorgeous cover, magical synopsis and looks right up my alley, and yet it remains on the shelf. I have no idea why. Maybe because it's a large book to look at?
6) 'Cruel Beauty' by Rosamund Hodge. I love fairy tale retellings, and 'Beauty And The Beast' is one of my all time favourites. This has been sitting on my shelf for such a silly amount of time, and every time I see it I get a little irritated at myself.
7) 'The Unlikely Pilgrimage Of Harold Fry' by Rachel Joyce. I actually bought this as part of a deal in a supermarket quite a while ago, and I remember seeing it all over Goodreads at the time. Now, not so much, but I still think it looks like it will be a great read. When I get to it.
8) 'Half Bad' by Sally Green. The witch series that I never started. I've seen many mixed reviews on this set of books and I was definitely intrigued by the synopsis, but can't seem to bring myself to actually start!
9) 'The Scorpio Races' by Maggie Stiefvater. I would love to get myself to start a Maggie Stiefvater book at all. Any one. I've heard wonderful things about her 'The Raven Cycle' series. But this standalone also looks like an awesome place to start!
10) 'Red Ink' by Julie Mayhew. This always looks like such a summer read to me, and every year I promise I'm going to read it. Preferably while on holiday. Every year, I remember it when I've hit Autumn. But, I am going to Croatia for my honeymoon next June, so I'm going to give it a good go then!