I wanted to finish just one more book before the end of April and I'm really relieved that I managed it. This book was recommended to me by my flat mate and I'm so glad that she did because I loved it! I'll also be entering it into the 'Monthly Motif' challenge!
SOURCE: Borrowed
TYPE: Paperback
TITLE: Child 44
AUTHOR: Tom Rob Smith
SERIES: Leo Demidov (#1)
PUBLISHER: Simon & Schuster
PAGES: 500
GENRE: Suspense, Historical Fiction, Thriller, Crime
RATING: 5/5 Stars
Blurb: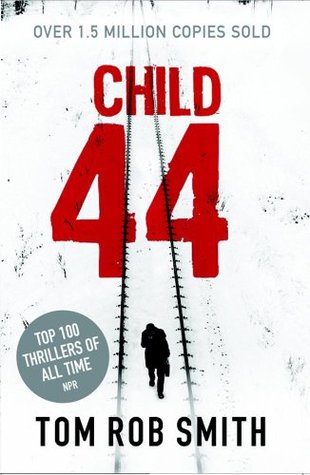 Stalin's Soviet Union strives to be a paradise for its workers, providing for all of their needs. One of its fundamental pillars is that its citizens live free from the fear of ordinary crime and criminals.
But in this society, millions do live in fear . . . of the State. Death is a whisper away. The mere suspicion of ideological disloyalty-owning a book from the decadent West, the wrong word at the wrong time-sends millions of innocents into the Gulags or to their executions. Defending the system from its citizens is the MGB, the State Security Force. And no MGB officer is more courageous, conscientious, or idealistic than Leo Demidov.
A war hero with a beautiful wife, Leo lives in relative luxury in Moscow, even providing a decent apartment for his parents. His only ambition has been to serve his country. For this greater good, he has arrested and interrogated.
Then the impossible happens. A different kind of criminal-a murderer-is on the loose, killing at will. At the same time, Leo finds himself demoted and denounced by his enemies, his world turned upside down, and every belief he's ever held shattered. The only way to save his life and the lives of his family is to uncover this criminal. But in a society that is officially paradise, it's a crime against the State to suggest that a murderer-much less a serial killer-is in their midst. Exiled from his home, with only his wife, Raisa, remaining at his side, Leo must confront the vast resources and reach of the MBG to find and stop a criminal that the State won't admit even exists.
What I Liked:
The plot was the most gripping I've read in a while. I couldn't believe how much I enjoyed it considering I don't really like thrillers or crime novels. But from the very first word I was totally hooked! The plot was well paced and full of unexpected, creative twists and turns that had me shouting out loud with frustration at times. I honestly didn't know who to trust and felt in a constant state of suspense.

I really liked the alternating viewpoints between characters. It gave a real depth to the story and gave insight into key events that would all play a part at some point. The characters themselves were so interesting to read too because they each had an interesting outlook on the events that transpire and their reactions and survival methods for the world that they live in.

The most impressive aspect for me was the world building. As the book is set in Stalin's Russia, a historical era that I didn't know much about, I was a little apprehensive as to whether I would fully understand the plot. However, I found that I was sucked into a world of political intrigue, suspicion, fear and almost felt that I myself was under surveillance. I actually felt like I was learning something too while reading this book and would be interested to pursue more knowledge/fiction from this era.
What I Disliked:
This book in my mind was one of the best books I've read in a while in terms of gripping me throughout. However,after of the horrors and humiliation that Leo and Raisa suffer throughout the story, I just felt that the ending was a little too perfect for them. I did of course want them to have a happy ending but it didn't seem to match the desolate future I was lead to believe awaited them. However, there are two other books in the series so I am sure they have plenty more to endure yet.
Overall Conclusion:
What a wonderful book! I will forever be in my flat mate's debt for introducing me to a Thriller that I actually really enjoy for once! It totally stood out among the others and I look forward to reading more of Tom Rob Smith's works, as he has proved himself more than capable of combining great characters, fast-paced plot and fantastic world-building. Anyone who is interested in this era and indeed likes Historical Thrillers should not miss this book.