This is a book I've been really looking forward to reading, most;y because it follows in the path of books I've loved before regarding the setting: a hot desert filled with sharpshooting heroines and/or magic, Arabian folklore and the supernatural. In fact, this book has all those things and I liked it a lot! Also, I'm entering this book into the monthly Key Word challenge AND the Monthly Motif challenge.
SOURCE: Bought
TYPE: Paperback

TITLE: Rebel Of The Sands
AUTHOR: Alwyn Hamilton
SERIES: Rebel Of The Sands (#1)
PUBLISHER: Faber & Faber
PAGES: 358
GENRE: Fantasy, Young Adult, Romance

RATING: 3.5/5 Stars
Blurb: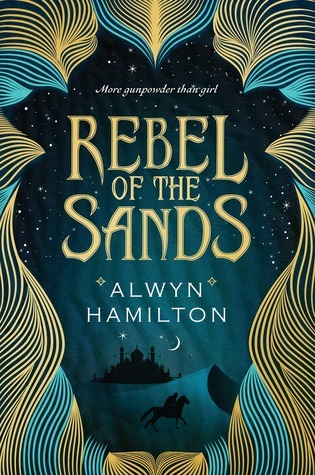 Dustwalk is an unforgiving, dead-end town. It's not the place to be poor or orphaned or female. And yet Amani Al'Hiza must call it 'home'.
Amani wants to escape and see the world she's heard about in campfire stories.
Then a foreigner with no name turns up, and with him she has the chance to run.
But the desert plains are full of dangerous magic. The Sultan's army is on the rise and Amani is soon caught at the heart of a fearless rebellion...
What I Liked:
Obviously the world-building was my favourite part of the book purely for the above-mentioned reasons: I really like Desert settings. 'Vengeance Road' by Erin Bowman was my favourite read of 2015 and like that book, this had the spirit of a rootin', tootin' Wild West novel including the sharpshooting heroine. But more than that, it contained elements of the Arabian/Indian folklore that has surrounded some of my other favourite novels: 'The Star-Touched Queen' by Roshani Chokshi or 'A Thousand Night's by E.K. Johnston for example. Hamilton did a gorgeous job of combining those two worlds together and made it feel comfortingly familiar yet new and exciting at the same time!
Amani was a really great heroine and I adored her feisty, stubborn nature mixed with intelligence, wit and quick-thinking to get her out of a sticky situation. Also, I'm so glad that Hamilton made her a PoC because I constantly harp on about the need for more representation for minorities in YA and when it happens, it warms my heart. Jin was a great character too and I really adored him more and more as I read on. What can I say? I'm clearly a sucker for the charming guys that have a sense of humour!
What I Disliked:
While this was a great book, I have to say it didn't grab me in the same way that those other desert reads I mentioned did. I feel that this is partly down to the incredibly fast pace of the novel. While I appreciate a book with plenty of action, this felt non-stop and allowed very little time to meet or get to know any characters. I would really have liked some areas to be slower so that more development could have taken place (particularly regarding Amani and Jin as a couple, I liked them together but it felt pretty rushed).
Overall Conclusion:
I liked this first installment a lot and I really feel like this series has so much potential. Hamilton demonstrates some pretty rich world-building talents, the writing was good and I liked the characters a lot. I wish that there had been some slower moments in the book where I could have got to know characters other than Amani and Jin better. I especially felt that the last third or so with Jin's family was rushed. Suddenly Hamilton unloads a ton of new characters on you and barely scratches the surface with any of their personalities, even revealing portions of their backstory through some very forced dialogue. Frankly, I got confused about who was related to who and skimmed a fair amount of that section. This series has a LOT of potential though and I'm still hoping that Hamilton will find her feet a bit better in 'Traitor To The Throne' because I'll definitely be reading it.