It didn't take me a whole lot of time to read this book, and that's mostly because I absolutely adored it! I'm seriously so excited to share my thoughts on this one as I think it's a book that all Teens should read straight away, and YA lovers will lap up! This is definitely a book I'll be pushing on people. I'll be entering this book into the 'Monthly Motif' challenge.
SOURCE: Netgalley
TYPE: E-Read
TITLE: Seven Ways We Lie
AUTHOR: Riley Redgate
SERIES: --
PUBLISHER: Amulet Books
PAGES:
352
GENRE: Young Adult, Contemporary, Romance, LGBT
RATING: 5/5 Stars
Blurb: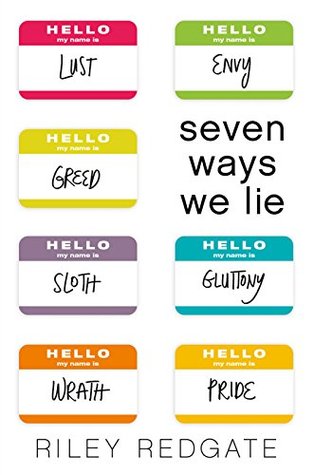 The juniors at Paloma High School all have their secrets, whether it's the thespian who hides her trust issues onstage, the closeted pansexual who only cares about his drug-dealing profits, or the neurotic genius who's planted the seed of a school scandal. But it's Juniper Kipling who has the furthest to fall. No one would argue that Juniper—obedient daughter, salutatorian, natural beauty, and loyal friend—is anything but perfect. Everyone knows she's a saint, not a sinner; but when love is involved, who is Juniper to resist temptation? When she begins to crave more and more of the one person she can't have, her charmed life starts to unravel.
Then rumours of a student–teacher affair hit the fan. After Juniper accidentally exposes her secret at a party, her fate falls into the hands of the other six sinners, bringing them into one another's orbits. All seven are guilty of something. Together, they could save one another from their temptations—or be ruined by them.
What I Liked:
There are so many amazing things about this book that I barely know where to begin. Let's start with the fact that I couldn't stop reading it. YA Contemporary is a genre that I've had mixed experiences with in the past and I've been trying to get into more of it this year because when I love it I really love it. This book is a classic example of that. I thought that Redgate handled the seven POVs really well, which is ultra difficult for Authors to do because more than a few POVs can get confusing for some people. Not once while reading did I not understand what was going on, and every voice was both distinct and authentic. Huge congratulations are in order for that!
Let's get more into the characters as they were the real crux of this book. Every single one was believable and relateable in some aspect, and despite the fact that this book was set in the USA, I felt like I'd been thrown back to my own sixth-form! This is how teenagers interact, and I couldn't believe how easy Redgate made teen perspectives look! I felt like I could connect with every one of the seven MCs on some level and loved that Redgate put so much thought into how each teen represented a 'sin'. The connections were subtle, not all of them were predictable. But each character was more than their respective 'sin'. They had flaws sure, but they had strengths too: Olivia was a positive go-getter, Claire was dedicated and organised, Matt was sensitive and thoughtful, etc. Fantastic characterisation all round!
So much diversity is found in this book! Whether you're looking for mixed ethnicities or sexuality, you'll find it here. One character is half-Mexican, one straight-up I.D.s as a Pansexual and one displays Aspergers like behaviour as well as Asexual thoughts though doesn't identify as either. That is so realistic. Some teens find themselves young, others are confused in their teenage years and struggle to understand who they are. I love that Redgate understood this and suggest anyone who wants to see more of different sexualities in books and the confusion that comes with them read this at once. In fact, all teens should read this book.
What I Disliked:
I could never call Juniper's chapters a dislike. They were all written in prose and included some achingly beautiful quotes. They didn't quite seem to fit in with the rest of the story due to a lack of detail in comparison. As a result, Juniper was the character I understood least because I learnt very little bout her other than her predicament. That being said, her part in the book was still necessary and I think Redgate was brave to have experimented with her chapters in such a way.
Overall Conclusion:
This book was absolutely gorgeous. I'm so glad that I got hold of a copy and I honestly think this is a really important book for young people to read. Not only that, but Redgate achieved the impossible by managing to write from seven points of view, each unique and honest. I was gripped by this book from start to finish, and I have to say that despite the fact that this is more a character-driven novel, the plot was enjoyable and well-structured. I can't wait to read more from this Author!