I always love the beginning of the month for a variety of reasons, one of them being this challenge! It can be quite hard to think of the chain at times, but that's part of the fun!
Despite the fact that I'm not all that interested in reading the famous 'Eat, Pray, Love' by this Author, I have to say this one looks quite good! And it's also this month's chosen book! Once again I haven't actually read the book (a common theme in these posts) but I am going to pop this one onto the TBR immediately.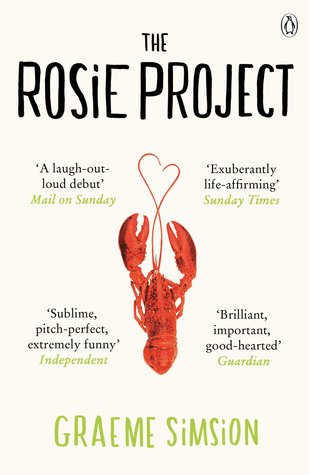 So my first link to the chosen book is a recent read: 'A Natural History Of Dragons' by Marie Brennan. There are a lot of key differences between the two, obviously, but I think the fact that the two books centre around a woman with a passion is too big a link to ignore. Alma in 'A Signature Of All Things' is a Botanist with a scientific mind. Isabella Camherst is also scientifically minded, but directs her love towards Dragons instead. Judging by the synopsis in the former, there appears to be a huge amount of travelling in both books also.
This is a little more of a tenuous link, but I felt like being a bit different today. 'The Rosie Project' by Graeme Simsion would appear, at first glance, to have no link whatsoever with 'A Natural History Of Dragons'. But both were (in 2013) Goodreads Choice Awards nominees! See? Tenuous! Also the two main characters do not adhere to society's norms, and yet still manage to find love and friends who appreciate them for who they are.
My next choice is more to do with the authors than the books themselves. Both Graeme Simsion and Ilka Tampke (who wrote 'Skin') are from Australia! That really is the only real link I can think of. I could say something like 'both main characters embark upon a quest: one to find the perfect wife, one to find their true heritage' but I feel like I could say that about a lot of books.
Next up? 'The Witch Of Salt & Storm' by Kendall Kulper. I would describe this and 'Skin' as YA Historical fiction with a dash of Fantasy added for good measure. Both heroines are strong, fall in love with a young boy who wants to aid them and is in need of help himself, and are at odds with a mother figure trying to protect them when all they want to do is embrace their heritage.
The link between 'A Discovery Of Witches' by Deborah Harkness and 'The Witch Of Salt And Storm' is of course the fact that both books are about witches! Both books do take a very different approach on the subject, but the link still remains. I love the fact that both do a great job with the world-building too!
My final choice was a very difficult one to make, but eventually I decided upon 'Midnight Crossroad' for a number of reasons. Firstly for me, both books did not live up to 'the hype'. I had heard so many great things about 'A Discovery Of Witches' but felt like it was a little chaotic in it's structure and too much happened. Charlaine Harris herself has a huge hype surrounding her, and this first book that I read by her is one of my most disappointing reads of the year. As well: the covers are similar and they both involve a lot of supernatural events and creatures (especially vampires and witches).
This month I covered a huge range of genres (a lot of the time I end up going down a one way path) and I'm quite proud of myself for that. It's always fun to find new ways of linking things!