Originally, I was going to read the next in the 'Sherlock Holmes' series, but due to having to commute back to my home town, and the fact that my original choice is such a big book, I opted for Hargrave's debut instead. Originally I was only going to read a bit of it, and then come back to it after I'd finished 'The Adventures Of Sherlock Holmes', but I honestly think I made the right call in finishing this one instead because it was amazing.
SOURCE: Bought
TYPE: Paperback
TITLE: The Girl Of Ink & Stars
AUTHOR: Kiran Millwood Hargrave
SERIES: --
PUBLISHER: Chicken House
PAGES: 228
GENRE: Fantasy, Middle Grade, Adventure
RATING: 4/5 Stars
Blurb: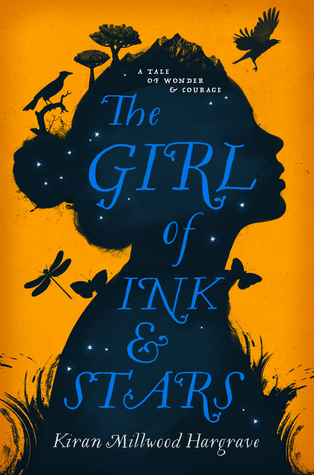 Forbidden to leave her island, Isabella Riosse dreams of the faraway lands her father once mapped.
When her closest friend disappears into the island's Forgotten Territories, she volunteers to guide the search. As a cartographer's daughter, she's equipped with elaborate ink maps and knowledge of the stars, and is eager to navigate the island's forgotten heart.
But the world beyond the walls is a monster-filled wasteland – and beneath the dry rivers and smoking mountains, a legendary fire demon is stirring from its sleep. Soon, following her map, her heart and an ancient myth, Isabella discovers the true end of her journey: to save the island itself.
What I Liked:
Hargrave's writing is captivating. From the moment that I picked this book up and opened the page, I was completely sucked in by everything: the plot was simple but fun, the pacing worked so well, her use of visual imagery and language created such a likeable story that meant I really didn't want to put the book down. The characters she created were full of personality too. I loved it! What really aided this book was it's design too: colourful maps and star charts decorate the pages, the cover is phenomenal and I love the blue and gold theme.

The world-building for this book was gorgeous. The place names (apart from Joya) were loosely based on various continents and countries of the world we know, but Hargrave span so much magic into them that I felt like I was reading them in an entirely new way. Joya is a very mythical place, full of ancient legends, monsters, beautiful maps and colourful places to explore. It was like reading a made-up Fairy Tale, and we all know how I feel about Fairy Tales!
What I Disliked:
This book was pretty short, sitting at just over 200 pages long. I feel that despite the fact that it's a wonderful book, this lack of length meant that some aspects weren't as fully explored as I would have liked. The Governor, for example, was a most intriguing villain with a mysterious past involving his Father and a tyrannical approach to ruling. Hargrave never explains him properly though: Was there a reason that he did what he did before coming to Joya? Why were there Ravens? What did the letter actually say? And was he really all that bad? If I could just somehow get more answers, I'd feel even happier!
Overall Conclusion:
This book is gorgeous, both physically and in it's writing and structure. I loved it! It's a Middle Grade book, but I really enjoyed the fact that you could almost class it as YA due to it's slightly darker themes it occasionally covers. There is death, a minuscule amount of violence/blood and occasional fantastical horror. I felt like I was reading an older book, but could very well see how it would appeal to children too! I'm very impressed with Hargrave's writing, and can't wait to read more from her in the future!