I didn't really think about just how many books are set in the USA until I saw the title for this week's TTT topic! I read a lot of different genres, so I thought I'd pick some of the best from each one (though still grounded in the 'real world', no Fantasy lands or outer space), mostly because I don't read much in the way of contemporary (most of the contemporary I do read is, as I said, is set in the USA).
Contemporary...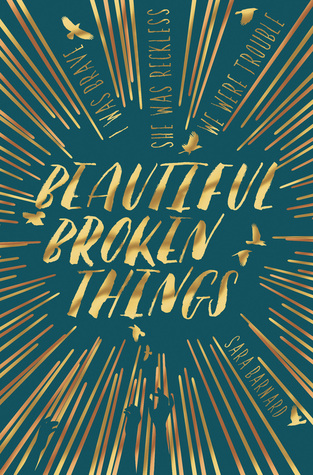 1) 'Beautiful Broken Things' by Sara Barnard.
Setting: Brighton, England.
This was the Contemporary read that instantly sprang to mind when this topic came to my attention. I've been to Brighton a couple of times in my life and really love it, it's a place that has so much character and is home to a lot of diversity! Most books set in England that I've read are based in or around London, so this was a really refreshing change! It's a YA book that focuses on friendship, mental health and some of the darker themes of abuse and suicide but does so in such a sensitive and meaningful way that I can't help but recommend it!
2) 'The Girl On The Train' by Paula Hawkins.
Setting: London, England.
A recent read of mine, I liked this book because usually I am the commuter staring out of the window in a daze, and despite the fact that it's a Psychological Thriller (a book genre I don't usually read) this one had me hooked from beginning to end. There's a lot of place naming in this book and I would certainly place it on the outskirts of London rather than Central London which is where a ton of English books are set. Give it a try if you're a fan of plot twists, mystery and interesting characters.
3) 'All The Birds Singing' by Evie Wyld.
Setting: Unnamed Australian Areas + Unnamed British Island.
This is a very dark, desolate book that doesn't hold back on it's violent and gory imagery. It's bleak and very ambiguous but perfect for fans of Literary Fiction because it's written beautifully. If you prefer character-driven rather than plot-driven novels this could be the one for you! I loved the contrast between the sweltering heat of the Australian outback and the strong winds and dreariness of England (or at least, an Island nearby).
Historical Fiction...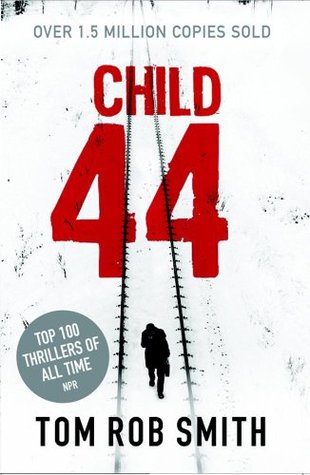 4) 'Child 44' by Tom Rob Smith.
Setting: Moscow, Russia + Voualsk, Russia.
Most of the Thrillers that I end up getting into seem to be set in Countries other than the US it seems. This book is primarily a Soviet Russian murder mystery and yet there's so much more to this book than the setting and genre. Tom Rob Smith is a masterful writer, throwing in plenty of interesting action, huge doses of suspense and tension and an easy, fast pace to get into. I was hooked from beginning to end and am grateful to my Flat Mate Tash for introducing me to this book!
5) 'The Book Thief' by Marcus Zusak.
Setting: Molching, Germany.
This is just one of my favourite books of all time, and there was no way it wasn't going to make the list. Set during Hitler's reign in Nazi Germany, the story of a young girl who finds solace in books when life becomes too much for her and her only true friend is the Jew hiding in her adoptive family's basement has captured the heart of millions and the film was a pretty popular success. My favourite thing about this book is it's interesting narrative perspective: Death is a sentient being and really knows how to tell a good story.
6) 'The Miniaturist' by Jessie Burton.
Setting: Amsterdam, Netherlands.
Miss Burton's debut novel was so charming and an obvious pick given it's unusual location, a place that I have now visited: Amsterdam! The characters and mystery in this one are so interesting, and learning about the doll house aspect of life was very intriguing. The plot got more and more engrossing as the book went on and while the ending was not necessarily a happy one, I think it's a very enjoyable piece of Historical Fiction and I look forward to reading my ARC of Burton's next work, 'The Muse'.
A Dash Of Magic/Supernatural...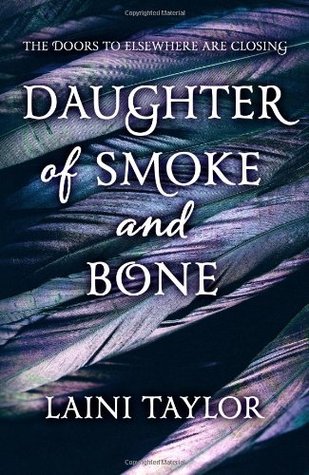 7)
'Daughter Of Smoke & Bone' by Laini Taylor.
Setting: Prague, Czech Republic + Marrakesh, Morocco.
I would be so shocked if this book doesn't appear on an absolute ton of lists, especially as the locations are so exotic and difficult to find in accessible stories, particularly YA! Taylor describes Prague well and makes it sound like an absolutely beautiful place to visit or even live in. Marrakesh also takes up a portion of the book, an equally revered city though more on that particular setting is found in the later books of the series. I loved the magic infused in a familiar world, the inclusion of angels and bizarre creatures made up of different animals, not to mention the gripping plot!
8) 'Wolf By Wolf' by Ryan Graudin.
Setting: Alternate Germany & Alternate Japan.
As an Alternate History book with the smallest dose of Sci-Fi, I felt this deserved a place in this section of the list. One of my top reads of last year, I loved the way that Graudin re-worked Germany and if you were to skip some of the scientific 'experiments' you find yourself in a terrifying idea of what Germany could have become if Hitler had won. Europe belonging to him, Japan having conquered most of Asia, and America 'not getting involved' is a scary thought to anyone and this thrilling, fast-paced adventure has elements of a Dystopian to it thanks to the setting and a Bike Race that threatens the lives of the young and vulnerable.
9) 'Let The Right One In' by John Ajvide Lindqvist.
Setting: Stockholm, Sweden.
For the Horror fans out there, this one's for you because on the surface, Lindqvist's masterpiece is a story about Vampires and love. This is what would really happen in a 'Twilight-esque' situation. Blood, gore, complex relationships and a lot of fear. There's a lot of social commentary here too and we get to see a Sweden that is rarely seen on the news: dirty, impoverished and full of morally ambiguous characters trying to 'get by'. I adored this book having watched both the Swedish film adaptation and the play in the National Theatre.
10) 'Rivers Of London' by Ben Aaronovitch.
Setting: London, England.
I couldn't not mention this book, or indeed this series. Everyone whose a fan of Urban Fantasy and likes to see large doses of the Paranormal in their reads, especially if you enjoy YA, then give this one a try. It's set in London of course, a place that I've become much more acquainted with in the last two years. Except in this series, there are ghosts, spirits, minor Gods, vampires, policemen that can perform magic and all sorts of spooky happenings in London. I'm two books in and look forward to reading the next one!