And just as we reach the end of December, another book bites the dust! I'm so glad I managed to get one more in before the end of the year, even if it wasn't my favourite read I've got to.
SOURCE: Netgalley
TYPE: E-Read

TITLE: A Girl Called Owl
AUTHOR: Amy Wilson
SERIES: --
PUBLISHER: Macmillan Children's Books
PAGES: 336
GENRE: Middle Grade, Fantasy, Adventure

RATING: 2.5/5 Stars
Blurb: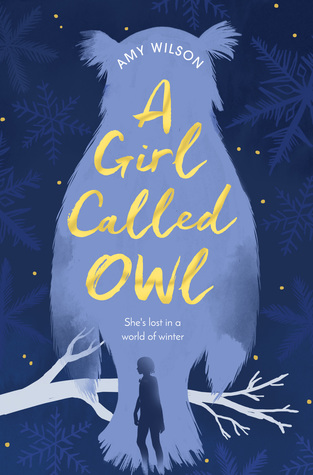 It's bad enough having a mum dippy enough to name you Owl, but when you've got a dad you've never met, a best friend who needs you more than ever, and a new boy at school giving you weird looks, there's not a lot of room for much else.
So when Owl starts seeing strange frost patterns on her skin, she's tempted to just burrow down under the duvet and forget all about it. Could her strange new powers be linked to her mysterious father?And what will happen when she enters the magical world of winter for the first time?
What I Liked:
The premise of it was pretty cool, and there were glimpses of this book that had real potential, if they had been expanded upon. I've always liked the idea of a world where folkloric characters such as the Green Man or Jack Frost exist and Wilson did a fairly good job of that. In fact the story was actually pretty neat. I didn't dislike this book at all.
What I Disliked:
While I did like this book, I simply didn't love it. It's true that it's aimed at a younger audience than myself so I can't pin this on the slightly immature writing level, though I don't think a more natural dialogue would have gone amiss. I just felt like Wilson didn't really leave much room for development in her story, choosing instead to jump from moment to moment without expanding upon most of it. It was a little disappointing.

The characters were a bit on the 'meh' side too. I wanted to see more of Jack Frost, the Earl of October, the Green Man etc. but instead Wilson mostly just told me about their personalities and back-stories instead of showing me. Owl, the MC of the book was strong and independent but just a little too flighty for my liking. She was prone to a lot of strange mood swings which didn't make sense in the grand scheme of things and I would have liked more consistency on her part.
Overall Conclusion:
This was not a bad book and I didn't find myself really hating it, I just didn't fall in love with it like I'd have liked to. There was certainly potential here but in the end, the vague, rushed feel meant that it didn't really move above 'okay' for me. I wanted to learn more about everything and everyone and feel a slower, more consistent pace throughout without watching Owl run off here, there and everywhere.