My first read of December took me a little longer than planned to get round to, especially as it was released in May and I've been looking forward to it for so long. I've been worried that I'd forget the characters and situation, seeing as it has been so long since I read 'Sunbolt', but luckily that didn't happen at all!
SOURCE: Bought
TYPE: E-Read

TITLE: Memories Of Ash
AUTHOR: Intisar Khanani
SERIES: The Sunbolt Chronicles (#2)
PUBLISHER: Purple Monkey Press
PAGES: 359
GENRE: Young Adult, Fantasy, Adventure

RATING: 5/5 Stars
Blurb: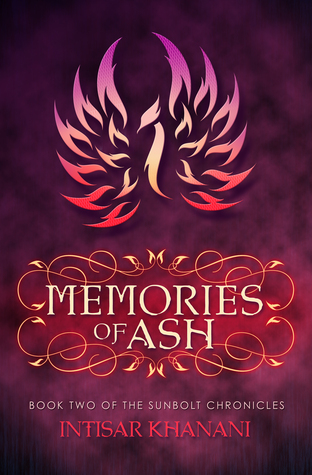 In the year since she cast her sunbolt, Hitomi has recovered only a handful of memories. But the truths of the past have a tendency to come calling, and an isolated mountain fastness can offer only so much shelter. When the High Council of Mages summons Brigit Stormwind to stand trial for treason, Hitomi knows her mentor won't return—not with Arch Mage Blackflame behind the charges.
Armed only with her magic and her wits, Hitomi vows to free her mentor from unjust imprisonment. She must traverse spell-cursed lands and barren deserts, facing powerful ancient enchantments and navigating bitter enmities, as she races to reach the High Council. There, she reunites with old friends, planning a rescue equal parts magic and trickery.
If she succeeds, Hitomi will be hunted the rest of her life. If she fails, she'll face the ultimate punishment: enslavement to the High Council, her magic slowly drained until she dies.
What I Liked:
All of Khanani's characters are phenomenally written, and I especially enjoyed Hitomi's POV. She's a strong, fierce, kind character and I adored her just as much as I did in 'Sunbolt'. The characters surrounding her were also great, both new and old. Familiar faces such as Brigit, Val and Tanuki were wonderful to read and become reacquainted with, and I adored new characters such as Osman Bey, Stonefall and Huda.

The world-building was really great, and I loved the sheer amount of development that Khanani had put into it. There were recognisable features from book one, but also new places, more politics, a better understanding of the history and a more refined explanation of how magic works in this world.
What I Disliked:
To be honest, I can't really think of anything other than the fact I'm probably going to have to wait an exceptionally long time before book three is released and I can read it. Tears, tears, a thousand tears.
Overall Conclusion:
Khanani, as usual, did a great job with this novel. It's the second full length story I've read by her and thoroughly enjoyed, and this has the potential to be such a good fantasy series. I'll certainly be recommending it to everyone, ALL OF THE TIME, because I'd like Khanani's work to receive more attention from fellow readers and bloggers alike. It's a great contribution to YA, Fantasy and diversity in reading and deserves to be read and enjoyed by as many people as possible.