I didn't expect this book to make me feel the way that it did. I was totally blown away. I have been wanting to get hold of one of Robert Dinsdale's books for some time, namely 'Gingerbread' because it's based on a fairy tale, but I was glad to grab a copy of this one. Thank goodness I did!
SOURCE: Netgalley
TYPE: E-Read
TITLE: The Toymakers
AUTHOR: Robert Dinsdale
SERIES: --
PUBLISHER:
Ebury Digital

PAGES: 320
GENRE: Adult, Magical Realism, Historical Fiction, Fantasy

RATING: 5/5 Stars
Blurb: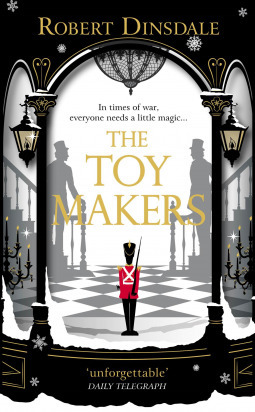 It is 1917, and London has spent years in the shadow of the First World War. In the heart of Mayfair, though, there is a place of hope. A place where children's dreams can come true, where the impossible becomes possible – that place is Papa Jack's Toy Emporium.
For years Papa Jack has created and sold his famous magical toys: hobby horses, patchwork dogs and bears that seem alive, toy boxes bigger on the inside than out, 'instant trees' that sprout from boxes, tin soldiers that can fight battles on their own. Now his sons, Kaspar and Emil, are just old enough to join the family trade. Into this family comes a young Cathy Wray – homeless and vulnerable. The Emporium takes her in, makes her one of its own. But Cathy is about to discover that while all toy shops are places of wonder, only one is truly magical...
What I Liked:
The characters are so complex and those are my favourite kinds of characters. Kaspar and Emil were particularly important in this sense because despite loving each other, they are bitterly fighting a 'long war' to be the favourite son and inherit the Emporium. I could empathise with them both: I found Kaspar irritating, selfish and arrogant to begin with while I felt sorry for downtrodden, forgotten Emil. But as time went on and Cathy came into their lives fully, I grew more attached to the upbeat, magical Kaspar and found Emil's obsessive and sulky nature less endearing.

Cathy was a great 'neutral' POV. She was feisty, strong and even as a pregnant sixteen year old girl I loved her relationship with her daughter. She became a great way of tracking the status of the Emporium itself, very much another character in the book, and seeing all of the wonders (and horrors) through her eyes was perfect for this kind of story.

The story itself was wonderful. Papa Jack's emporium was very much what every child sees when stepping into a toy shop. Magic and adventure in every aisle, and wonders that have never been seen before! The magical realism is nicely handled in this book too. I liked the way that Dinsdale perfectly encapsulated the horrors and sentiment of WWII too, as well as Papa Jack's experiences in Siberia. It became a richly laid out historical piece as well as fantastical.
What I Disliked:
To be honest, nothing in this book really struck me as something to dislike, except a slightly vague ending. The plot twist just before it was fantastic and totally unexpected. But what followed didn't really feel like a resolution of any kind. Nothing was really ironed out fully, which was mildly disappointing.
Overall Conclusion:
This book was wonderful, the perfect read for the festive season! The characters were well-crafted, the story full of great twists and turns, and everything about the setting was magical and well-researched. The whole reading experience was a warm, fuzzy feeling and took me back to my childhood when everything about winter was enchanting and exciting! Dinsdale's writing is exquisite too, and I'm looking forward to reading more of it in the future!