Guys, 2019 is here!!! I'm very excited to embark on another year of reading, and there are so many gorgeous looking books coming out this year! But I have picked out eight reads, some of which are older reads that I still need to catch up on.
I've actually already started Glimpse by Kendra Leighton and so far I'm enjoying the story. It's based on/a retelling of Alfred Noyes's poem 'The Highwayman', set in a world where the Inn referenced in the poem is real and passed down through generations. I look forward to finishing and reviewing this.
I'm so excited to get to Becky Chambers's 'The Long Way To A Small, Angry Planet' next, as it's been on my TBR for a while. Some readers have described it as a good read for fans of the game Mass Effect and I like the reviews that tell me that the world-building is REALLY good. I find science fiction/ space-set fics hard to get into but if I love them, then I tend to really love them.
I've written before why I am excited about this next read, 'The Last' by Hanna Jameson. I don't often get to read a good murder mystery, and this has all the elements of an Agatha Christie classic, mixed with a post-apocalyptic setting. I look forward to finding out 'whodunnit' as well as being immersed in the setting.
I'm a little gutted that I didn't get to my next choice during the Christmas month, seeing as that is when 'The Enchanted Sonata' by Heather Dixon Wallwork is set. A small part of me wants to save it until next Christmas! But it is a retelling of 'The Nutcracker' and I've been longing to read another one of those since Claire Legrand's 'Winterspell'. It's the perfect winter fairy tale!
Speaking of fairy tales, the first one that I think of upon first glance at 'Ash Princess' by Laura Sebastian is, of course, Cinderella. Something about the cover and synopsis tells me that this particular princess is no house-cleaning pushover though. I'm excited at the prospect of a strong heroine!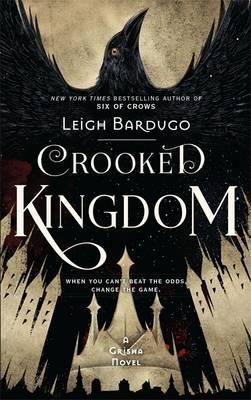 Jewish MCs, representation and folklore you say? An eastern European setting you say? A retelling of Christina Rossetti's 'Goblin Market' you say? Count. Me. In. 'The Sisters Of The Winter Wood' by Rena Rossner sounds like a combination of some of my favourite books - 'The Bear & The Nightingale' and 'The Goblins Of Bellwater' included! I can't wait to get stuck in.
I've seen 'Everless' by Sara Holland all over the blogosphere, but a recent plea from fellow Podcast host and good friend Kiara to read it was the final straw for me. I can't put this off any longer! I'm intrigued by the importance of time in this book, the cover is stunning, and I look forward to reading this.
'Crooked Kingdom' by Leigh Bardugo might actually be my most anticipated on the whole list. I am one of those idiotic people who waited a long time to read 'Six Of Crows' and absolutely loved it when I got round to it. I received this, the sequel and finale of the duology, for Christmas from my wonderful fiance and I can't bear the thought of waiting to find out what happens to my favourite characters! I can't wait to feel the feels once more!