In comparison to my last few reads, I think I've raced through this one much more impressively. That can only be put down to how much I enjoyed it though, in fact I stayed up rather late last night so I could finish it! It was fantastic, I can't wait to review it for you guys!
SOURCE: Netgalley
TYPE: E-Read
TITLE: A Thousand Nights
AUTHOR: E.K. Johnston
SERIES: --
PUBLISHER: Disney Hyperion
PAGES: 336
GENRE: Fantasy, Retelling, Young Adult
RATING: 5/5 Stars
Blurb: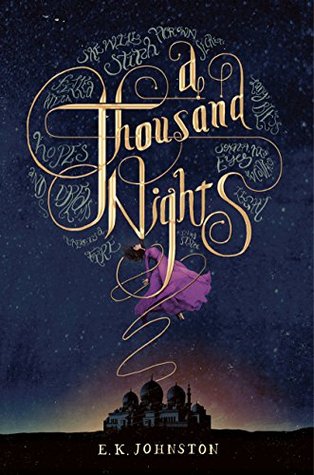 Lo-Melkhiin killed three hundred girls before he came to her village, looking for a wife. When she sees the dust cloud on the horizon she knows he has arrived. She knows he will want the loveliest girl: her sister. She vows she will not let her be next. And so she is taken in her sister's place, and she believes death will soon follow. But back in their village her sister is mourning. Through her pain, she calls upon the desert winds, conjuring a subtle unseen magic, and something besides death stirs the air in it's place.
Lo-Melkhiin's court is a dangerous palace filled with pretty things: intricate statues with wretched eyes, exquisite threads to weave the most beautiful garments. She sees everything as if for the last time. But the first sun sets and rises, and she is not dead. Night after night Lo-Melkhiin comes to her, and listens to the stories she tells and day after day she is awoken by the sunrise. Exploring the palace, she begins to unlock years of fear that have tormented and silenced a kingdom.
Lo-Melkhiin was not always a cruel ruler. Something went wrong. The words she speaks to him every night are given strange life of their own. She makes things appear. Little things, at first: a dress from home, a vision of her sister. With each tale she spins, her power grows. Soon she dreams of bigger, more terrible magic: power enough to save a king, if she can put an end to rule of a monster.
What I Liked:
Wow where do I begin?! The writing really blew me away. It is both lyrical and poetic, and written in a truly enchanting style that really conveys the tone of the novel well. It felt like a Fairy Tale, but with much more detail. I felt like Johnston's talent really shone through her gorgeous imagery. I could really see the Desert, the Palace, the dresses and the gardens that she described. It gave the whole piece a magical feel that I've previously found hard to find in other books.
There were a lot of clever subtleties in this book which I thoroughly enjoyed because they highlighted a very clear message for me. Most of the characters (women and poorer classes) were unnamed. Indeed, only three characters that I recall are actually named: the King, a Stone Carver and Skeptic (the latter two are given false names and receive their power unwittingly from the former). The reason why this is so important? Because the book is about the unnamed heroine of the story and the other anonymous women who work together with her to overcome their situations and show far more ingenuity and selflessness than the named characters. This book teaches that through unity we can achieve, and that we should not overlook the power that the supposedly weak and helpless can have. It's a powerful and inspirational message.

There is a huge amount of diversity found in this book, especially when it comes to customs and beliefs. I liked that these were handled so respectfully and through debate, rather than fighting. Johnston cleverly argued a preference for science, logic and reason but chose to inject magic and the supernatural in order to suggest higher powers at work also. Cultural differences are present throughout the story, but are not in any way white-washed which is often found in stories like this. It made for a very refreshing read.
What I Disliked:
It's hard for me to choose anything to go here as I really did enjoy this book a lot. At times I suppose it felt like things were placed a little too conveniently in the heroine's favour, but thus is the nature of Fairy Tales. The transition between the heroine's present, and her visions of home and/or the past became confusing at times too but this was only really a very minor annoyance.
Overall Conclusion:
This is a beautiful book with some very well written imagery and a strong message behind it. It's more of a re-imagining of the framing story of 'One Thousand & One Nights' rather than a retelling, as it is far richer and more complex than it's predecessor. It's not a romantic story either, though there are powerful bonds of love that become central to the plot-line. The characters were well-rounded and strong. Johnston wrote sensitively and cleverly and it is a strong contender to be one of my favourite reads of the year.