As today is the release date for this awesome book, I thought I'd post my review of the lovely ARC I got to read beforehand! This is definitely one of the best series beginnings I've read in a while, and I absolutely adored it from start to finish! I'm also entering it into the Key Words Challenge.
SOURCE: Giveaway Win
TYPE: Paperback
TITLE: The Dark Days Club
AUTHOR: Alison Goodman
SERIES: Lady Helen (#1)
PUBLISHER: Walker Books
PAGES: 496
GENRE: Historical Fiction, Urban Fantasy, Young Adult
RATING: 5/5 Stars
Blurb: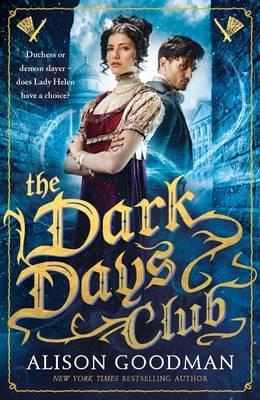 London, April 1812. Eighteen-year-old Lady Helen Wrexhall is on the eve of her debut presentation to the Queen. Her life should be about gowns and dancing, and securing a suitable marriage. Instead, when one of her family's housemaids goes missing, Lady Helen is drawn to the shadows of Regency London.
There, she finds William, the Earl of Carlston. He has noticed the disappearance too, and is one of the few who can stop the perpetrators: a cabal of powerful demons that has infiltrated every level of society. But Lady Helen's curiosity is the last thing Carlston wants—especially when he sees the searching intelligence behind her fluttering fan. Should Helen trust a man whose reputation is almost as black as his lingering eyes? And will her headstrong sense of justice lead them both into a death trap?
What I Liked:
Let's start with Lady Helen & Lord Carlston, who were the comparative Darcy & Elizabeth in this very loose 'Pride & Prejudice' retelling. I don't normally like those sorts of comparisons, but this one was spot on! Elizabeth & Darcy gave me a very particular type of feels that few book couples can replicate, but Goodman managed it! I loved their slow-building romance, I liked that Goodman didn't let a whole lot happen between them. A slower pace is much preferred to insta-love. And yet the tension. Good lord it was excruciatingly heated at times, I don't know how Lady Helen coped! I'd like to see more of these two in Book Two for sure!

Goodman certainly did her homework for this book! It's set in 1812 so I expected to see a lot of ball gowns and duchesses and carriages and such, but the level of detail went far beyond my expectations. Goodman had a very clear idea of exactly what life was like in that time (particularly for the women). Political and cultural events played an important role in the shaping of the plot, famous figures cameoed at various social events, and to the letter Goodman got the inner workings of a household in exquisite detail. Everyone knows I love good world-building and this went far beyond my expectations.

The plot itself was very well structured and full of some very satisfying twists and turns. I mentioned the romance variant but that actually took a back seat for most of the book so the reader could focus on the main plot: Lady Helen's self discovery. I liked that Goodman worked so hard to make her different from other ladies, wanting more than her station should allow, and yet not so modern that she actually thought she deserved them. The sad truth is that most women in that era believed they were inferior to men and most author's writing from this time period make the mistake of writing very modern ideals with a historical background. Goodman balanced it perfectly and Helen was by no means demure, just clever enough to keep her opinions to herself and use her position to her advantage.
What I Disliked:
I already mentioned the slow-burning romance but I have to say that this does apply to the rest of the book as well. The blurb implies a very quick transition from her presentation to demon-hunting. This is not the case. There's a lot of mystery solving, Goodman is very detailed with her descriptions and the pace (particularly in the first half) is rather slow. Personally I had little problem with this, especially as the second half of the book paced itself much better. Others who like to get through a story quickly will struggle immensely.
Overall Conclusion:
What a book! It's been a while since I enjoyed anything quite so much, especially a series' first book. I really think this book pretty much ticked off the entire check list: fantastically detailed world-building, memorable characters, great plot-line, a sizzling romance and the promise of more to come. At times the pacing was a little slow and there were certainly moments that could have been cut from the book to speed things up and save page space. I think the rest more than made up for this however and this impressive first installment has me desperate to read Book Two already! Now I just have to wait...