I can't believe it. I managed to read all seven of the books that I said I would this month! I can't remember the last time I managed that, if in fact I've even managed it at all. It's probably got a lot to do with my lovely boyfriend drawing me up a schedule to help me manage my time better. Since then I've felt like I have more time to sit down and read without interruption. Anyway, I'm entering this read into the 'Monthly Motif' challenge too.
SOURCE: Borrowed
TYPE: Hardcover
TITLE: The Complete Sherlock Holmes (A Study In Scarlet)
AUTHOR: Arthur Conan Doyle
SERIES: Sherlock Holmes (#1)
PUBLISHER: Barnes & Noble Classics
PAGES: 75
GENRE: Mystery, Classics, Historical Fiction
RATING: 4/5 Stars
Blurb: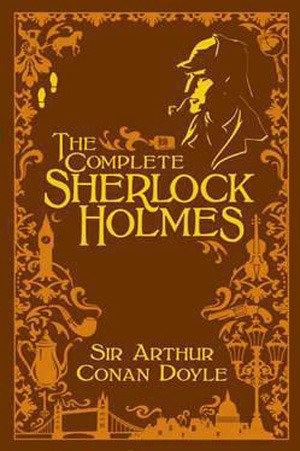 In the debut of literature's most famous sleuth, a dead man is discovered in a bloodstained room in Brixton.
The only clues are a wedding ring, a gold watch, a pocket edition of Boccaccio's Decameron, and a word scrawled in blood on the wall. With this investigation begins the partnership of Sherlock Holmes and Dr. Watson.
Their search for the murderer uncovers a story of love and revenge-and heralds a franchise of detective mysteries starring the formidable Holmes.
What I Liked:
I've watched a fair few Sherlock Holmes Film and TV adaptations in my time, my favourite being the series starring Benedict Cumberbatch and Martin Freeman. I was a little afraid that the actual characters in the book would not be like their adapted counterparts, but I needn't have worried. Holmes was every bit the arrogant but ingenious sociopath I had been expecting and Dr Watson his ever awestruck but despairing sidekick. I can already feel the bromance vibes and I love it. Lestrade & Gregson were also a great character and I look forward to seeing more of him in future stories.

The plot was pretty good considering it's length. As expected of a whodunnit, it held plenty of twists and turns to keep interest in the story and contained more plot elements than I expected it to. My favourite part of the story actually ended up being the Wild West style portion that explained the villain's motives and reasoning behind his actions and made for a decent story all on it's own. This, for me, was where Doyle's writing really shone.
What I Disliked:
I guess the length was a minor issue fr me. This story was so short. It was a neat little mystery, it's true, but I'm used to reading books where finding the perpetrator takes a lot longer than 30 or so pages. Maybe a third attempted murder whereby Holmes catches him in the act would have been a nice addition to the story. Still, it was the first in a long line of mysteries and I have to admit, this was not a huge issue for me.
Overall Conclusion:
For me this was a great start to what promises already to be a fun series full of mystery. I am disappointed in myself for not having started it sooner and can't wait to get deeper into the lives of the characters (particularly Holmes & Watson), meet some more, and watch this legendary detective's story play out. I have a long way to go of course but this was the perfect introduction to the world of Sherlock Holmes and I can only hope for longer stories in the future.